Thumbnail gallery: Grid view | List view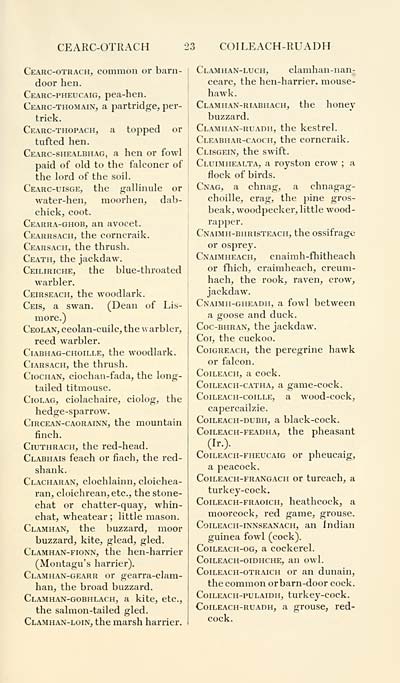 CEARC-OTRACH
23
COILEACH-RUADH
Cearc-otrach, common or barn-
door hen.
Cearc-pheucaig, pea-hen.
Cearc-thomain, a parti'idge, per-
trick.
Cearc-thopach, a topped or
tufted hen.
Cearc-shealbhag, a hen or fowl
paid of old to the falconer of
the lord of the soil.
Cearc-uisge, the gallinule or
water-hen, moorhen, dab-
chick, coot.
Cearra-ghob, an avocet.
Cearrsach, the corncraik.
Cearsach, the thrush.
Ceath, the jackdaw.
Ceiliriche, the blue-throated
warbler.
Ceirseach, the woodlark.
Ceis, a swan. (Dean of Lis-
more.)
Ceolan, ceolan-cuilc,the warbler,
reed warbler.
CiABHAG-cHoiLLE, the woodlark.
CiARSACH, the thrush.
CiocHAN, ciochan-fada, the long-
tailed titmouse.
CioLAG, ciolachaire, ciolog, the
hedge-sparrow.
CiRCEAN-cAORAiNN, the mountain
finch.
CiuTHRACH, the red-head.
Clabhais feach or fiach, the red-
shank.
Clacharan, clochlainn, cloichea-
ran, cloichrean, etc., the stone-
chat or chatter-quay, whin-
chat, wheatear ; little mason.
Clamhan, the buzzard, moor
buzzard, kite, glead, gled.
Clamhan-fionn, the hen-harrier
(Montagu's harrier).
Clamhan-gearr or gearra-clam-
han, the broad buzzard.
Clamhan-gobhlach, a kite, etc.,
the salmon-tailed gled.
Clamhan-loin, the marsh harrier.
Ci-AMHAN-LUCH, clamhau-nan-
cearc, the hen-harrier, mouse-
hawk.
Clamhan-riabhach, the honey
buzzard.
Clamhan-ruadh, the kestrel.
Cleabhar-caoch, the corncraik.
Clisgein, the swift.
Cluimhealta, a royston crow ; a
flock of birds.
Cnag, a chnag, a chnagag-
choille, crag, the pine gros-
beak, woodpecker, little wood-
rapper.
Cnaimh-bhristeach, the ossifrage
or osprey.
Cnaimheach, cnaimh-fhitheach
or fhich, craimheach, creum-
hach, the rook, raven, crow,
jackdaw.
Cnaimh-gheadh, a fowl between
a goose and duck.
Coc-BHRAN, the jackdaw.
Coi, the cuckoo.
Coigreach, the peregrine hawk
or falcon.
Coileach, a cock.
Coileach-catha, a game-cock.
Coileach-coille, a wood-cock,
capercailzie.
Coileach-dubh, a black-cock.
Coileach-feadha, the pheasant
(Ir.).
Coileach-fheucaig or pheucaig,
a peacock.
Coileach-frangach or turcach, a
turkey-cock.
Coileach-fraoich, heathcock, a
moorcock, red game, grouse.
Coileach-innseanach, an Indian
guinea fowl (cock).
Coileach-og, a cockerel.
Coileach-oidhche, an owl.
Coileach-otraich or an dunain,
the common or barn-door cock.
Coileach-pulaidh, turkey-cock.
Coileach-ruadh, a grouse, red-
cock.

Set display mode to: Large image | Transcription
Images and transcriptions on this page, including medium image downloads, may be used under the Creative Commons Attribution 4.0 International Licence unless otherwise stated.
(49)

| | |
| --- | --- |
| Permanent URL | https://digital.nls.uk/79329835 |
Gaelic names of beasts (mammalia), birds, fishes, insects, reptiles, etc
Description
In two parts I. Gaelic-English.--II. English-Gaelic. Part I. contains Gaelic names or terms for each of the above, with English meanings. Part II. contains all the English names for which Gaelic is given in Part I., with Gaelic, other English names, etymology, Celtic lore, prose, poetry, and proverbs referring to each, thereto attached / all now brought together for the first time by Alexander Robert Forbes.
Shelfmark
Blair.140
Additional NLS resources:
Attribution and copyright:

The physical item used to create this digital version is out of copyright

More information
Blair Collection

| | |
| --- | --- |
| Description | A selection of books from a collection of more than 500 titles, mostly on religious and literary topics. Also includes some material dealing with other Celtic languages and societies. Collection created towards the end of the 19th century by Lady Evelyn Stewart Murray. |
Early Gaelic Book Collections

| | |
| --- | --- |
| Description | Selected items from five 'Special and Named Printed Collections'. Includes books in Gaelic and other Celtic languages, works about the Gaels, their languages, literature, culture and history. |