Thumbnail gallery: Grid view | List view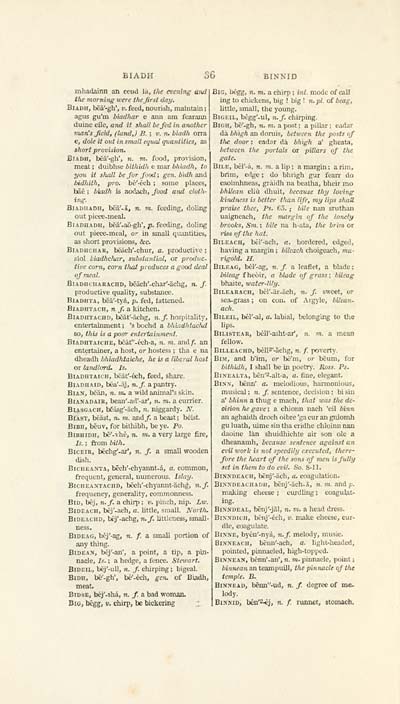 BIADH 3
mhadainn an ceud la, the evening aiui
the morning were the first day.
BiADH, bèà'-gh', V. feed, nourish, maintain ;
agus gu'm hiadhar e ami am fearaim
duine eile, and it shall be Jed in anoilier
inan's field, (land,) B. ; v. n. hiadh orra
e, dole it out in small equal quantities, as
short provision.
BlADH, bèà'-gh', n. m. food, provision,
meat ; duibhse bithidh e mar bhiadh, to
you it shall be for /nod; gen. bidh and
bidkith, pro. bè'-èeh ; some places,
bae ; biadh is aodach, food and cloth-
ing.
BiADUADR, bea'-X, n. m. feeding, doling
out piece-meal.
BiADHADH, bèà'-aogh', p. feeding, doling
out piece-meal, or in small quantities,
as short provisions, &c.
BlADHCHAR, beach'-chur, a. productive ;
siol biadhchar, substantial, or produc-
tive corn, corn that produces a good deal
of meal.
BiADHCHARACHD, beSch'-char'-achg, n. f.
productive quality, substance.
BiADHTA, beà'-tyà, p. fed, fattened.
BiADHTACH, n f, a kitchen.
BiADHTACHD, beàt'-àchg, n.f. hcspitality,
entErtainment ; 's bochd a Wiiatf/i/ac/id
so, this is a poor entertainment.
BlADHTAicHE, b6àt"-èch-a, n. m. and/, an
entertainer, a host, or hostess ; tha e na
dheadh bhiadhtaiche, fie is a liberal host
or landlord. Is.
BlADHTAicH, beàt'-èch, feed, share.
BlADHAiD, bua'-aj, n.f a pantry.
BiAN, bean, n. m. a wild animal's skin.
BiANADAiR, bean'-ad'-ar", n. m. a currier.
BlASGACH, bCasg'-ach, n. niggardy. N.
BiAST, beast, n. m. and/, a beast; bd-ist.
BiBH, beuv, for bithibh, be ye. Po.
BiBHiDH, be'-vhè, n. m. a very large fire.
Is. ; from bith.
BicEiR, beclig'-ar', n. f. a small wooden
dish.
BicHEANTA, bech'-chyannt-à, a. common,
frequent, general, numerous. Islay.
BiCHEANTACHD, bech'-chyannt-achg, n.f.
frequency, generality, commomiess.
Bid, bej, n.f. a chirp ; v. pinch, nip. Liv.
BiDEACH, bej'-ach, <z. little, small. North.
BiDEACUD, bfj'-achg, n.f. littleness, small
ness.
BiDEAG, bej'-ag, n. f. a small portion of
any tiling.
BiDEAN, bèj'-an', a point, a tip, a piji
nade. Is. ; a hedge, a fence. Stewart.
BiDEiL, bej'-ull, n. f. chirping ; bigeal.
Bidh, be'-gh', bè'-èch, gen. of Biadh.
meat.
BiDSB, bèj'-shà, n. f. a bad woman.
Bio, bcgg, v. chirp, be bickering
BINNID
Big, begg, n. m. a chirp ; int. mode of call
ing to chickens, big ! big ! n..pl. of beag,
little, small, the young.
BiGEii., bègg'-ul, n.f. chirping.
BiGH, be'-gh, n. m. a post ; a pillar ; eadar
da bhigh an doruis, between the posts of
th£ door ; eadar da bhigh a' gheata,
between tite portals or pillars of the
gate.
Bile, bèl'-à, n. m. a lip; a margin; a rim,
brim, edge ; do bhrigh gur fearr do
caoimhneas, graidh na beatha, bheir mo
bhilean cliù dhuit, because thy loving
kindness is better than life, my lips shaU
praise thee, Ps. 65. ; bile nan sruthan
uaigneach, the margin of the lonely
brooks, Sm. ; bile na h-ata, the brim or
rifd of the hat.
BiLEACH, bèl'-ach, a. bordered, edged,
having a margin ; bileach choigeach, ma-
rigold. H.
BiLEAG, bèl'-ag, n. f. a leaflet, a blade ;
bileag fheòir, a blade of grass; bUeag
bhaite, water-lily.
BiLEARACH, bèl'-àr-ach, n. f. sweet, or
sea-grass ; on con. of Argyle, bUean-
ach.
BiLEiL, bèl'-al, a. labial, belonging to the
lips.
BiLisTEAR, bèll'-asht-ar", n. m. a mean
fellow.
BiLLEACHD, bèll2'-achg, n. f. poverty.
BiM, and b'im, or be'm, or beum, for
bithidh, I shall be in jwetry. Boss. Ps.
BiNEALTA, ben'2-alt-a, a. fine, elegant.
BiNN, berm' a. melodious, harmonious,
musical ; n. f sentence, decision ; bi sin
a' bhinn a thug e mach, that was the de-
cision he gave ; a chionn nach 'eil binn
an aghaidh droch oibre 'ga cur an gniomh
gu luath, uime sin tha cridhe chloinn nan
daoine Ian shuidhichte air son olc a
dheanamh, because sentence agaÌTist an
evil work is not speedily executed, there-
fore the lieart of the sons of men is fully
set in them to do evil. So. 8-11.
BiNNDEAcn, benj'-ach, a. coagulation.
BiNNDEACHADH, bcnj'-àch-A, n. m. and p.
making cheese ; curdling ; coagulat-
ing.
BiNNDEAL, benj'-jal, n. m. a head dress.
BiXNDicii, bcnj'-èch, v. make cheese, cur-
dle, coagulate.
BiNNE, byèn'-nyà, n.f. melody, music.
BiNNEACH, benn'-ach, a. light-headed,
pointed, pinnacled, high-topped.
BiNNEAN, bènn'-an', n. m. pinnacle, point ;
binnean an teampuUl, the pinnacle of the
temple. B.
BiNNEAD, bènn"-ud, n. /. degree of me.
lody.
Bis.MD, bèn'3-èj, n. f. runnet, stomach.

Set display mode to: Large image | Transcription
Images and transcriptions on this page, including medium image downloads, may be used under the Creative Commons Attribution 4.0 International Licence unless otherwise stated.
(92)

| | |
| --- | --- |
| Permanent URL | https://digital.nls.uk/76240918 |
Argyleshire pronouncing Gaelic dictionary
Description
"... to which is prefixed a concise but most comprehensive Gaelic grammar".
Shelfmark
Blair.209
Additional NLS resources:
Attribution and copyright:

National Library of Scotland

More information
Blair Collection

| | |
| --- | --- |
| Description | A selection of books from a collection of more than 500 titles, mostly on religious and literary topics. Also includes some material dealing with other Celtic languages and societies. Collection created towards the end of the 19th century by Lady Evelyn Stewart Murray. |
Early Gaelic Book Collections

| | |
| --- | --- |
| Description | Selected items from five 'Special and Named Printed Collections'. Includes books in Gaelic and other Celtic languages, works about the Gaels, their languages, literature, culture and history. |