Thumbnail gallery: Grid view | List view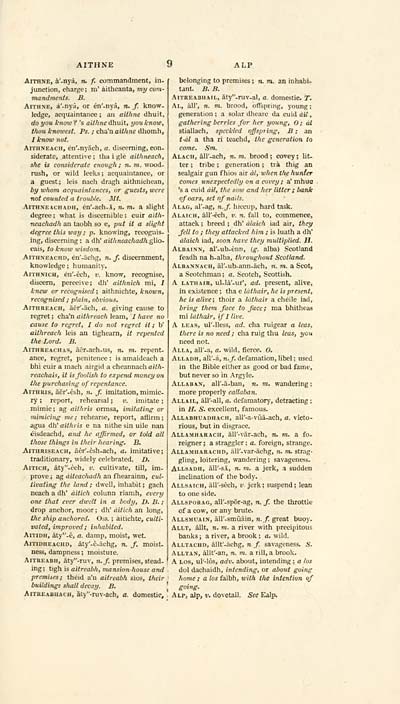 AITHNE
ALP
AiTHNE, à'-nyà, n. f. commandment, in-
junction, charge; ra' àitheanta, viy cum-
mandments. B.
AiTHXE, à'-nyi, or èn'.nyà, n. /. know,
ledge, acquaintance ; an aithne dhuit,
do you know Y 's aithne dhuit, you know,
thou knowest. Ps. ; eha'n aithne dhomh,
/ ktienu not.
AiTHNEACH, en'-nyach, a. discerning, con.
siderate, attentive; tha i glè aithneach,
she is considerate enough; n. ?«. wood-
rush, or wild leeks; acquaintance, or
a guest; leis nach dnigh aithnichean,
by whom acriiiaintanccs, or guests, were
not counted a trouble. Mt.
AlTHNEiCHADH, èn'-ach-X, 71. m. a slight
degree; what is discernible: cuir aith-
neachadh an taobh so e, -put it a slight
degree this way ; p. knowing, recognis-
ing, discerning : a dh' aithneachadh glio-
cais, to know wisdom.
AiTHNEACHD, èn'-àchg, n. f. discernment,
knowledge ; humanity.
AiTHNicH, èn'-èch, v. know, recognise,
discern, perceive; dh' aithnich mi, I
knew or recognised i ai thnichte, tnown,
recognised ; plain, obvious.
AiTHREACH, àèr'.àch, a. giving cause to
regret ; cha'n aithreach leam, I have no
cause to regret, I do not regret it; b'
aithreach leis an tigheam, it repented
the Lord. B.
AiTHREACHAS, àer-ach-us, n. m. repent-
ance, regret, penitence : is amaideach a
bhi cuir a mach airgid a cheannach aith-
reachais, it is foolish to expend money on
the purchasing of repentance.
AiTHRzs, àèr'-èsh, n. f. imitation, mimic,
ry ; report, rehearsal ; v. imitate ;
mimic; ag aiihris orrasa, imitating or
mimicing me; rehearse, report, affirm;
agus dh' aithris e na nithe sin uile nan
eisdeachd, and he affirmed, or told all
those things in their hearing. B.
AiTBRisEACH, àèr'-èsh-aeh, a. imitative;
traditionary, widely celebrated. D.
AiTicH, àty"-èch, r. cultivate, till, im-
prove ; ag àiteachadh an fhearainn, cul-
tivating the land ; dwell. Inhabit ; gach
neach a dh' àitich colunn riamh, every
one that ever dwelt in a body, D. B. ;
drop anchor, moor ; dh' ditich an long,
the ship anchored. Oss. ; àitichte, culti-
vated, improved; inhabited.
AiTiDH, àty"-è, a. damp, moist, wet.
AiTiDHEACHD, àty'-c-àchg, n. f. moist,
ness, dampness ; moisture.
AiTREABH, àty"-ruv, n.f. premises, stead-
ing; tigh is aitreabh, mansion-house arul
premises; theid a'n aitreabh sios, their
buildings shall decay. B.
AiTKEABUACu, àty"-ruv-achj a. domestic.
belonging to premises ; n. m. an inhabi-
tant. B. B.
AiTREABMAiL, aty"-ruv-al, a. domestic T.
Al,, air, n. m. brood, offspring, young;
generation ; a solar dhearc da cuid ail ,
gathering berries for Iter young, O; dl
stiallach, speckled offspring, B; an
iàl a tha ri teachd, the generation to
come. Sm.
Alach, all'.ach, n. m. brood; covey; lit.
ter ; tribe ; generation ; trà thig an
sealgair gun fhios air al, when the hunter
comes unexpectedly on a covey ; a' mhue
's a cuid ail, the sow and her litter: bajik
of oars, set nf nails.
Alag, al'-ag, n.f. hiccup, hard task.
Alaich, àll'-èch, V. n. fall to, commence,
attack ; breed ; dh' alaich iad air, they
fell to ; they attacked him ; is luath a dh'
alaich iad, soon have they mrdtiplied. H.
Albainn, al'-ub-tnn, (g. alba) Scotland
feadh na h-alba, throughout ScotloTid.
Albannach, àl'.ub-ann-àch, n. m. a Scot,
a Scotchman ; a. Scotch, Scottish.
A LATHAiR, ul-là'.ur', ad. present, alive,
in existence ; tha e làthair, he is present,
he is alive; thoir a lathair a chèile iad,
bring them face to face; ma bhitheas
mi lathair, if I live.
A LEAS, ul'-lless, ad. cha ruigear a leas,
there is no need; cha ruig thu leas, yon
need not.
Alla, all'-a, a. wild, fierce. 0.
Alladh, all'-a, n.f. defamation, libel ; used
in the Bible either as good or bad fame,
but never so in .\rgjle.
Allaban, all'-a-ban, n. m. wandering ;
more properly callaban.
Allail, all'-all, a. defamatory', detracting ;
in U. S. excellent, famous.
Allabhuadhach, all'-a-vùà-ach, a. victo-
rious, but in disgrace.
Allamharach, àll'-vàr-ach, ru m. a. fo-
reigner ; a straggler ; a. foreign, strange.
Allamharachd, àll'-var-àchg, n. m. strag-
gling, loitering, wandering; savageness.
Allsadh, all'-si, n. m. a jerk, a sudden
inclination of the body.
Allsaich, àll'-sèch, v jerk; suspend; lean
to one side.
Allsporag, all'-spor-ag, n. f. the throttle
of a cow, or any brute.
Allsmuatn, àll'-smùàin, n.f. great buoy.
Allt, allt, n. m. a river with precipitous
banks ; a river, a brook ; a. wild.
Alltachd, àllt'-àchg, n f savageness. A'.
Allta.n, allt'-an, n. m. a rill, a brook.
A LOS, ul'-lòs, adv. about, intending ; a los
dol dachaidh, intending, or about going
home ; a los falbh, with the intention of
going.
Alp, alp, v. dovetail. See Ealp.

Set display mode to: Large image | Transcription
Images and transcriptions on this page, including medium image downloads, may be used under the Creative Commons Attribution 4.0 International Licence unless otherwise stated.
(65)

| | |
| --- | --- |
| Permanent URL | https://digital.nls.uk/76240621 |
Argyleshire pronouncing Gaelic dictionary
Description
"... to which is prefixed a concise but most comprehensive Gaelic grammar".
Shelfmark
Blair.209
Additional NLS resources:
Attribution and copyright:

National Library of Scotland

More information
Blair Collection

| | |
| --- | --- |
| Description | A selection of books from a collection of more than 500 titles, mostly on religious and literary topics. Also includes some material dealing with other Celtic languages and societies. Collection created towards the end of the 19th century by Lady Evelyn Stewart Murray. |
Early Gaelic Book Collections

| | |
| --- | --- |
| Description | Selected items from five 'Special and Named Printed Collections'. Includes books in Gaelic and other Celtic languages, works about the Gaels, their languages, literature, culture and history. |