Thumbnail gallery: Grid view | List view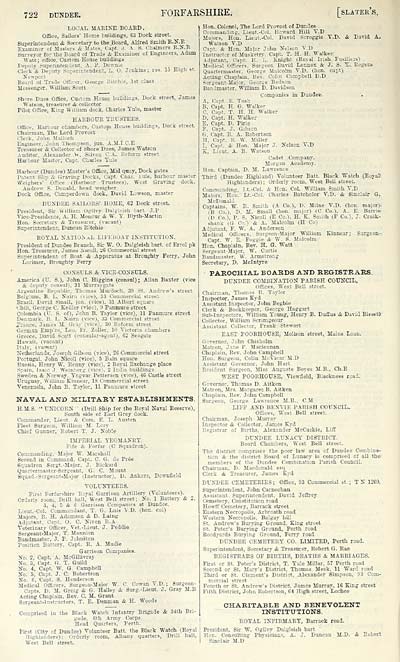 722 DUNDEE.
FORFARSHIRE.
[slater's.
LOCAL MARINE BOARD.
Office, Sailors' Home buildings, 63 Dock street.
Superintendent & Secretary to the Board, Alfred Smith E.N.R
Examiner o£ Masters & Mates, Capt. J. A. S. Chalmers R.N.R
Surveyor for the Board of Trade & Examiner of Engineers, Adam
Watt ; office, Custom House buildings
Deputy Superintendent, A. P. Downie
Clerk & Deputy Superintendent, L. 0. Jenkins; res. lo High st.
Newport
Board of Trade Officer, George Eitchie, 1st class
Messenger, William Scott
Shore Dues Office, Custom House buildings, Dock street, James
Watson, treasurer & collector
Pilot Office; King William dock, Charles Tule, master
HARBOUE TRUSTEES.
Office, Harbour chambers, Custom House buildings, Dock street.
Chairman, The Lord Provost
Clerk, John Malloch
Engineer, John Thompson, jun. A.M.I. C.E
Treasurer & Collector of Shore Duesi, James Watson
Auditor, Alexander \i. Stiven C.A. Eeform street
Harbour Master, Capt. Charles Yule
Harbour (Dundee) Master's Office, Mid quay, Dock gates
Patent Slip & Graving Docks, Capt. Cnas. lule, harbour master
Weighers' Office (Harbour Trustees), West Graving dock,
Andrew S. Donald, head weigher
Dock Office, Camperdown dock, David Lowson, master
DUNDEE SAILORS' HOME, 62 Dock street.
President, Sir William Ogilw Dalgleish bart. J.P
Vice-Presidents, A. H. Moncur & W. T. Blyth-Martin
Hon. Secretary & Treasurer, (vacant)
Superintendent, Duncan Ritchie
ROYAL NATIONAL LIFEBOAT INSTITUTION.
President of Dundee Branch, Sir W. 0. Dalgleish bart. of Errol pk
Hon. Treasurer, James Nicoll, 26 Commercial street
Superintendent of Boat & Apparatus at Broughty Ferry, John
Lorimer, Broughty Ferry
CONSULS & "VICE-CONSULS.
America (U. S.), John C. Higgins (consul); Allan Baxter (vice
& deputy consul), 31 Murraygate
Argentine Republic, Thomas Murdoch, 39 St. Andrew's street
Belgium. B. L. Nairn (.vice), 33 Commercial street
Brazil, David Small, jun. (vice). 31 Albert square
Chili, George C. Keiller (vice), 9 Panmure street
Colombia (U. S. of), John B. Taylor (vice), 11 Panmure street
Denmark, B. L. Nairn (vice), 33 Commercial street
.France, James M. Gray (vice), 30 Eeform street
German Empire, Leo. Fr. Zoller, 10 Victoria chambers
Greece, David Scott (consular-agent), 62 Seagate
Hawaii, (vacant)
Italy, (vacant)
Netherlands, Joseph Gibson (vice), 26 Commercial street
Portugal. John Nicoll (vice), 5 Bain square
Russia, Henry W. Eenny (vice), 2 Eoyal Exchange place
Spain, Isaac J. Weinberg (vice). 2 India buildings
Sweden & Norway. Yngvar Pettersen (vice), 46 Castle street
Uruguay, William Kinnear, 18 Commercial street
Venezuela, John B. Taylor, 11 Panmure 6treet
NAVAL AND MILITARY ESTABLISHMENTS.
H.M.S. " UNICOEN " (Drill Ship for the Royal Naval Reserve),
South side of Earl Grey dock.
Commander, Lieut. & Com. E. L. Austen
Fleet Surgeon, William M. Lory
Chief Gunner, Eobert T. J. Noble
IMPERIAL YEOMANEY.
Fife & Forfar (C Squadron).
Commanding, Major W. Marshall
Second in Command, Capt. C. G. de Pree
Squadron Sergt. -Major, J. Eickard
Quartermaster-Sergeant, G. C. Mount
Squad. -Sergeant-Major (Instructor), D. Ankers, Downfleld
VOLUNTEERS.
First Forfarshire Rova! Garrison Artillery (Volunteers).
Orderly room, Drill hall,' West Bell street ; No. 1 Battery & 2,
3, 4, 5 & 6 Garrison Companies at Dundee.
Lieut.-Col. Commandant, T. G. Luis V.D. (hon. col)
Majors, E. H. Adamson & D. Laing
Adjutant, Capt. 0. C. Niven E.A
Veterinary Officer, Vet. -Lieut. J. Peddie
Sergeant-Major, T. Mannion
Bandmaster, J. P. Johnston
Position Battery, Capt. R. A. Mudie
Garrison Companies.
No. 2, Capt. A. McGillivray
No. 3, Capt. a. T. Guild
No. 4, Capt. W. G. Campbell
No. 5, Capt. J. C. Robertson
No. 6, "Capt. S. Henderson
Medical Officers, Surgeon-Maior W. C. Cowan V.D.; Surgeon-
Capts. D. M. Greig & G. Halley & Surg. -Lieut. J. Gray M.B
Acting Chaplain, Eev. C. M. Grant
Sergeant-Instructors, T. E. Denman & H. Woods
Comprised in the Black Watch Infantry Brigade & 31th Bri-
gade, 6th Army Corps.
Head Quarters, Perth.
First (City of Dundee) Volunteer Batt. the Black Watch (Eoyal
Highlanders); Orderly room, Albany quarters, Drill hall,
West Bell street.
Hon. Colonel, The Lord Provost of Dundee
Commanding, Lieut.-Col. Howard Hill V.D
Majors, Hon. Lieut.-Col. David Scroggie V.D. & David A.
Watson V.D
Capt. & Hon. Major John Nelson V.D
Instructor of Musketry, Capt. T. H. H. Walker
Adjutant, Capt. H. L. Knight (Eoyal Irish Fusiliers)
Medical Officers, Surgeon David Lennox & J. S. Y.. Rogers.
Quartermaster, George Malcolm V.D. (hon. capt),
Acting Chaplain, Eev. Colin Campbell D.D
Sergeant-Major, George Bedson
Bandmaster. William D. Davidson
Companies in Dundee.
A, Capt. E. Tosh
B, Capt. H. G. Walker
C, Capt. T. H. H. Walker
D, Capt. H. Walker
E, Capt, D. Pirie
F, Capt. J. Gibson
G, Capt. R. A. Robertson
H, Capt. E. W. Miller
I, Capt. & Hon. Major J. Nelson V.D
K, Lieut. A. B. Watson
Cadet Company.
Morgan Academy.
Hon. Captain, D. M. Lawrence
Third (Dundee Highland) Volunteer Batt. Black Watch (Royal'
Highlanders) ; Orderly room, Wesb Bell street.
Commanding, Lt.-Col. & Hon. Col. William Smith V.D
Majors, Hon. Lt.-Col. Charles Batchelor V.D. & Sinclair G.
McDonald
Captains, W. R. Smith (A Co.), D. Milne V.D. (hon. major).
(B Co.), -D. M. Small (hon. major) (C Co.), A. E. Barrie-
(D Co.), P. S. Nicoll (E Co.), H. K. Smith (F Co.), J. Cruik-
shank (G Co.) & A. Malcolm (H Co)
Adjutant, F. W. A. Anderson
Medical Officers, Surgeon-Major William Kinnear; Surgeon-
Capt. W. E. Foggie & W. S. Malcolm
Hon. Chaplain, Revr H. G. Watt
Sergeant-Major, W. Curtis
Bandmaster. W. Armstrong
Secretary, D. Mclntyre
PAROCHIAL BOARDS AND REGISTRARS.
DUNDEE COMBINATION PARISH COUNCIL,
Offices. West Bell street.
Chairman, Thomas B. Taylor
Inspector, James Kyd
Assistant Inspector, John Begbie
Clerk & Bookkeeper, George Haggart
Sub-Inspectors, William Young, Henry B. Duffus & David Bissetfc
Collector, William Scrimgeour
Assistant Collector, Frank Stewart
EAST POOEHOUSE, Molison street, Mains Loan.
Governor. John Chisholm
Matron, Jane F. Maclennan
Chaplain, Eev. John Campbell
Hon. Surgeon, Colin McVicar M.D
Assistant Governor, John Hart
Resident Surgeon, Miss Auguste Boyes M.B., Ch.B
WEST POOEHOUSE, Viewfleld, Blackness roadl
Governor, Thomas D. Aitken
Matron, Mrs. Margaret B. Aitken
Chaplain, Eev. John Campbell
Surgeon, George Lawrence M.B., CM
LIFF AND BENVIE PARISH COUNCIL-
Offices, West Bell street.
Chairman, Joseph Murray
Inspector & Collector, James Kyd
Eegistrar of Births, Alexander McCaskie, LifE
DUNDEE LUNACY DISTEICT.
Board Chambers, West Bell street.
The district comprises the poor law area of Dundee Combina-
tion & the district Board of Lunacy is comprised of all the
members of the Dundee Combination Parish Council.
Chairman, D. Macdonald esq
Clerk & Treasurer, James Kyd
DUNDEE CEMETERIES; Office, 93 Commercial St.; TN 12C9,
Superintendent, John Carnochan
Assistant Superintendent, David Jeffrey
Cemetery, Constitution road
HowTl Cemetery, Barrack street
Eastern Necropolis, Arbroath road
Western Necropolis, Balgay hill
St. Andrew's Burying Ground, King street
St. Peter's Burying Ground, Perth road
Eoodyards Burying Ground, Ferry road
DUNDEE CEMETEEY CO. LIMITED, Perth road.
Superintendent, Secretary & Treasurer, Robert G. Rae
EEGISTEAES OF BIETHS, DEATHS & MAEEIAGES.
First or St. Peter's District, T. Yule Millar, 57 Perth road
Second or St. Marv's District, Thomas Meek, 11 Ward road
Third or St. Clement's District, Alexander Simpson, 93 Com-
mercial street
Fourth or St. Andrew's District, James Murray, 16 King street
Fifth District, John Eobertson, 64 High street, Lochee
CHARITABLE AND BENEVOLENT
INSTITUTIONS.
ROYAL INFIRMARY, Barrack road.
President, Sir W. Ogilvy Dalgleish bart
Hon. Consulting Physicians, A. J. Duncan M.D. & Robert
Sinclair M.D "

Set display mode to: Large image | Transcription
Images and transcriptions on this page, including medium image downloads, may be used under the Creative Commons Attribution 4.0 International Licence unless otherwise stated.
(786)

| | |
| --- | --- |
| Permanent URL | https://digital.nls.uk/90679453 |
1903, Part 1 - Slater's Royal National Commercial Directory of Scotland ... (Royal National Directory of Scotland.) With ... map, etc
Shelfmark
V.373
Additional NLS resources:
Attribution and copyright:

The physical item used to create this digital version is out of copyright

More information
1882-1915 - Slater's Royal National Commercial Directory of Scotland
Description
Published in Manchester, 1882-[1915]. Continued by: Kelly's - Slater's - Royal National Directory of Scotland.
Shelfmark
Various
More information
Scotland

| | |
| --- | --- |
| Description | Directories of the whole, or large parts of, Scotland. |
Scottish Post Office Directories

| | |
| --- | --- |
| Description | Around 700 Scottish directories published annually by the Post Office or private publishers between 1773 and 1911. Most of Scotland covered, with a focus on Edinburgh, Glasgow, Dundee and Aberdeen. Most volumes include a general directory (A-Z by surname), street directory (A-Z by street) and trade directory (A-Z by trade). |