Thumbnail gallery: Grid view | List view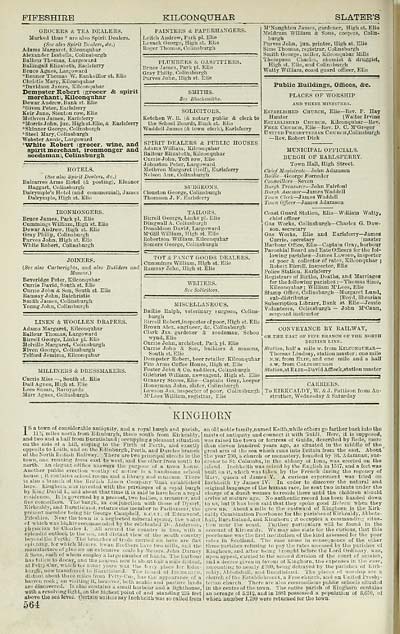 FIPESHIRB
KILOONQUHAR
SLATER'S
GROCERS & TEA DEALERS.
Marked thus * are also Spirit Dealers.
(See also Spirit Dealers, dec.)
Adams Margaret, Kilconqubar
Alexander Isabella, Colinsburgh
Balfour Tbnmas, Largoward
Ballingall Elizabeth, Earlsferry
Bruce Agnes, Largoward
*Bonner Thomas W. Rankeillor st. Elio
Christie Mary, Kilconquhar
*Davidson James, Kilconquhar
Dempster Robert (grocer & spirit
merchant), Kilconquhar
Dewar Andrew, Bank st. Elie
*Given Peter, Earlsferry
Keir Jane, Stenton row, Elie
Methven James, Earlsferry
*Morris John, jun. High st.Elie, & Earlsferry
* Skinner George, Colinsburgh.
*Steel Mary, Colinsburgh
Webster Annie, Largoward
*White Robert (grocer, wine, and
spirit merchant, ironmonger and
seedsman), Colinsburgh
HOTELS.
(See also Spirit Dealers, &x.)
Balcarres Arms Hotel (& posting), Eleanor
Haggart, Colinsburgh
Dalrymple's Hotel (and commercial), James
Dalryniple, High st. Elie
IRONMONGERS.
Bruce James, Park pi. Elie
Cummings William, High st.Elie
Dewar Andrew, High st. Elie
Gray Philip, Colinsburgh
Purves John, High st. Elie
White Robert, Colinsburgh
JOINERS.
(See also Cartwrights, and also- Builders and
Masons.)
Beveridge Peter, Kilconquhar
Currie David, South st. Elie
Currie Jobn & Son, South st. Elie
Ramsay John, Balchristie
Smith James, Colinsburgh
Young John, Colinsburgh
LINEN & WOOLLEN DRAPERS.
Adams Margaret, Kilconquhar
Balfour Thomas, Largoward
Birrell George, Links pi. Elie
Melville Margaret, Colinsburgh
Wiven George, Colinsburgh
Telford Jemima, Kilconqubar
MILLINERS & DRESSMAKERS.
Currie Miss — , South st. Elie
Dall Agries, High st. Elie
Lees Susan, Barnyards
Marr Agnes, Colinsburgh
PAINTERS & PAPERHANGERS.
Leitch Andrew, Park pi. Elie
Levack George, High st. Elie
Roger Thomas, Colinsburgh
PLUMBERS & GASFITTERS.
Bruce James, Park pi. Elie
Gray Philip, Colinsburgh
Purves John, High st. Elie
SMITHS.
See Blacksmiths.
SOLICITORS.
Ketchen W. R. (& notary public & clerk to
the School Board), Bank st. Elie
Waddell James (& town clerk), Earlsferry
SPIRIT DEALERS & PUBLIC HOUSES
Adams William, Kilconquhar
Balfour Elizabeth, Kilconquhar
Currie John, Toft row, Elie
Johnston Peter, Largoward
Methven Margaret (Golf), Earlsferry
Nelson Ann, Colinsburgh
SURGEONS.
Clouston George, Colinsburgh
Thomson J. F. Earlsferry
TAILORS.
Birrell George, Links pi. Elie
Dingwall A. Colinsburgh
DonaldBon David, Largoward
M'Gill William, High st. Elie
Robertson William, Kilconquhar
Soniers George, Colinsburgh
TOY & FANCY GOODS DEALERS.
Cummings William. High st. Elie
Ramsay John, High st.Elie
WRITERS.
See Solicitors.
MISCELLANEOUS.
Baillio Ralph, veterinary surgeon, Colins-
burgh
Birrell Robert,inspector of poor, High st. Elie
Brown Ales, engineer, &c. Colinsburgh
Clark Jas. gardener & seedsman, Schoo
wynd, Elie
Currie John, architect, Park pi. Elie
Currie John & Son, builders & masons,
South st.Elie
Dempster Robert, beer retailer, Kilconquhar
Fife Arras Coffee House, High st. Elie
Foster John & Co. saddlers, Colinsburgh
Gilchrist William, newsagent, High st. Elie
Granpry Stores, Elie— Captain Gray, keeper
Honeyman John, slater, Colinsburgh
Lawson Jas. inspector of poor, Colinsburgh
M'Lees William, registrar, Elie
M'Naughton James, gardener, High st. Elie
Meldrum William & Sons, coopers, Colin-
burgh
Purves John, jun. printer, High st. Elie
Sime Thomas, registrar, Colinsburgh
Smith George, miller, Kilconqubar Mills
Thompson Charles, chemist & druggist,
High st. Elie, and Colinsburgh
Watty William, coast guard officer, Elie
Public Buildings, Offices, Sec.
PLACES OF WORSHIP
AND THEIR MINISTERS.
Established Church, Elie— Rev. P. Hay
Hunter [Walter Irvine
Established Church, Kilconquhar — Rev.
Free Church, Elie— Rev. D. C. M'Gregor
United Presbyterian Church, Colinsburgh
— Rev. Robert Dick
MUNICIPAL OFFICIALS.
BURGH OF EARLSFERRY.
Town Hall, High Street.
Chief Magistrate — John Adamson
Bailie — George Forrester
Councillors — Seven
Burgh Treasurer — John Fairfoul
Burgh Assessor— James Waddell
Town Clerk— James Waddell
Town Officer— James Adamson
Coast Guard Station, Elie— William Watty,
chief officer
Gas Works, Colinsburgh— Charles G. Daw-
son, secretary
Gas Works, Elie and Earlsferry— Jameg
Currie, secretary [master
Harbour Office, Elie — Captain Gray, harbour
Parochial Board and Rate Officers for the fol-
lowing parishes — James Lawson, inspector
of poor & collector of rates, Kilconquhar ;
Robert Birrell, inspector, Elie
Police Station, Earlsferry
Registrars of Births, Deaths, and Marriages
for the following parishes :— Thomas Sime,
Kilconquhar; William M'Lees, Elie
Stamp Office, Colinsburgh— Margaret Lnnd,
sub-distributor [Boyd, librarian
Subscription Library, Bank st. Elie— Jessie
Volunteers, Colinsburgh — John M'Cann,
sergeant instructor
CONVEYANCE BY RAILWAY,
ON THE EAST OF FIFE BRANCH OF THE NORTH
BRITISH LINE.
Station, half a mile w. from Kilconquhar—
Thomas Lindsay, station master ; one mile
n.w. from Elie, and one mile and a half
s.w. from Colinsburgh
Station,a,t Elie— David Affleck, station master
CARRIERS.
» To KIRKCALDY, W. & J. Pattison from An-
strutber, Wednesday & Saturday
KINGHORN
IS a town of considerable antiquity, and a royal burgh and parish,
11% miles north from Edinburgh, three south from Kirkcaldy,
and two and a half from Burntisland ; occupying a pleasant situation
on the side of a hill, sloping to the Firth of Forth, and exactly
opposite to Leith, and on the Edinburgh, Perth, and Dundee branch
of the North British Railway. There are two principal streets in the
town, one running from east to west, and the other from south to
north. An elegant edifice answers the purpose of a town house.
Another public erection worthy of notico is a handsome school
house ; it contains school rooms and a library and museum. There
is also a branch of the British Linen Company Bank established
here. Kinghorn.was invested with the privileges of a royal burgh
by King David I., and about that time it is said to have been a royal
residence. It is governed by a provost, two bailies, a treasurer, and
live councillors. The burgh, in conjunction with those of Dysart,
Kirkcaldy, and Burntisiand, returns one member to Parliament., the
present member being Sir George Campbell, K.O.S.I., of Edenwood,
Fifi-shire. Near the town is a neglected mineral spring, the water
of which was highly recommended by the celebrated Dr. Anderson,
physician to Charles I. All around the country is line, with a
splendid outlook to the sea, and distant view of tile south country
beyonilthe Forth. The branches of trade carried on here are flax
spinning, for which Messrs. Swan Brothers have two mills, and the
manufacture of glue on an extensive scale by Messrs. John Daruey
.5 Sons, each of whom employ a largo number of hands. The harbour
has fallen to decay, and the nearest now is about ball a mile distant.
at Petty-Cur, which for many years was the furry place for Edin-
burgh, now transferred to Burntisland. The island of ItreBKEITH,
distant about three miles from Petty-Cur, has the appearance of a
barren rock ; on visiting it, however, both arable and pasture lands
are discovered. It also contains a small harbour and a lighthouse,
with a revolving light, on tho highest point of and standing 235 feet
above the sea level, t tertain writers say Inchkoith was so called from
564
an old noble family,named Keith,while others go farther back into the
mists of antiquity and connect it with Guidi. Here, it is supposed,
was raised the town or fortress of Guida, described by Bede, more
than eleven hundred years ago, as situated in the middle of the
great arm of the sea which runs into Britain from the east. About
the year 700, a church or monastery, founded by St. Adamnan, suc-
cessor to St. Columba, in the abbacy of lona, was erected on the
island. Inchkeith was seized by the English in 1547, and a fort was
built on it, which was taken by the French during the regency of
Mary, queen of James V. A curious experiment was tried on
Inchkeith by James IV. In order to discover the natural and
original language of the human race, he sent two infants under the
charge of a dumb woman to reside there until the children should
arrive at mature age. No authentic record has been handed down
to us, but it has been said that they spoke good Hebrew when they
grew up. About a mile to the eastward of Kingborn is the Kirk-
caldy Combination Poorhouse for the parishes of Kirkcaldy, Abbots-
hal], Burntisland, and Kinghorn ; it occupies a commanding situa-
tion near the coast. Further particulars will be found in tho
account of Kirkcaldy. We may also state for the curious, that this
i poorhouse was the first institution of the kind assessed for the poor
I rates in Scotland. The case arose in consequence of the other
three parishes refusing to pay the rates assessed by the parishes of
Kinghorn, and after btiug brought before the Lord Ordinary, was,
upon appeal, carried to the second division of the court of session,
and a decree given in favour of Kinghorn, the expenses in tho case,
amounting to nearly £300, being defrayed by the parishes of Kirk-
caldy, Ahbotshall, and Burntisland. The places of worship are a
church of tho Establishment, a Free church, and tin United Presby-
terian church. There arc also commodious public schools situated
in the centre of the town. The entire parish of Kinghorn contains
an acreage of 5,212, and in 1881 possessed a population, of 3,050, of
which number 1,790 were returned for the town.

Set display mode to: Large image | Transcription
Images and transcriptions on this page, including medium image downloads, may be used under the Creative Commons Attribution 4.0 International Licence unless otherwise stated.
(1228)

| | |
| --- | --- |
| Permanent URL | https://digital.nls.uk/90658160 |
1886 - Slater's (late Pigot and Co's) Royal national commercial directory and topography of Scotland
Attribution and copyright:

The physical item used to create this digital version is out of copyright
digitised by courtesy of The Mitchell Library, Glasgow City Council

More information
1882-1915 - Slater's Royal National Commercial Directory of Scotland
Description
Published in Manchester, 1882-[1915]. Continued by: Kelly's - Slater's - Royal National Directory of Scotland.
Shelfmark
Various
More information
Scotland

| | |
| --- | --- |
| Description | Directories of the whole, or large parts of, Scotland. |
Scottish Post Office Directories

| | |
| --- | --- |
| Description | Around 700 Scottish directories published annually by the Post Office or private publishers between 1773 and 1911. Most of Scotland covered, with a focus on Edinburgh, Glasgow, Dundee and Aberdeen. Most volumes include a general directory (A-Z by surname), street directory (A-Z by street) and trade directory (A-Z by trade). |