Thumbnail gallery: Grid view | List view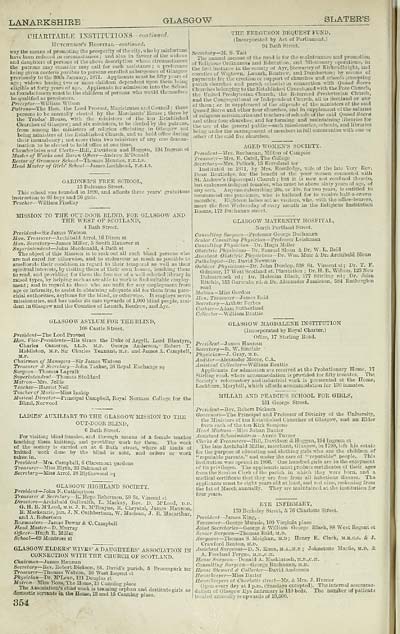 LANARKSHIRE
GLASGOW
SLATER'S
CHARITABLE INSTITUTIONS-
Hutcheson's Hospital— continued.
way the means of promoting the prosperity of the city, who by misfortune
have been reduced in circumstances ; and also in favour of the widows
and daughters of persons of the above description whose circumstances
the patrons may consider may call for such assistance ; a preference
being given caeteris paribus to persons enrolled as burgesses of Glasgow
previously to the 30th January, 1871. Applicants must be fifty years of
age ; widows having two or more children dependent upon them being
eligible at forty years of age. Applicants for admission into the School
as foundationers must be the children of persons who would themselves
be qualified as pensioners.
Preceptor — William Wilson
Patrons— The Hon. the Lord Provost, Magistrates and Council ; three
persons to be annually elected by the Merchants' House ; three by
the Trades' House, with the ministers of the ten Established
Churches of Glasgow; and six ministers, to be elected by the patrons,
from among the" ministers of religion officiating in Glasgow not
being ministers of the Established Church, and to hold office during
their incumbency ; not more than two ministers of any one denom-
ination to be elected to bold office at one time.
Clwmbcrlains and Clerks— Hill, Davidson and Hoggan, 194 Ingram st
Master of Works and Baron Officer — Andrew M'Donald
Rector of Grammar School— Thomas Menzies, f.e.i.s.
Head Master of Girls' School — James Lochhead, f.e.i.s.
GARDNER'S FREE SCHOOL,
13 Balmauo Street.
This school was founded in 1820, and affords three years' gratuitous
instruction to 86 boys and 36 girls.
Teacher — William Findlay
MISSION TO THE OUT-DOOR BLIND, FOR GLASGOW AND
THE WEST OF SCOTLAND,
4 Bath Street.
President — Sir James Watson
Hon. Treasurer — Archibald Arrol, 16 Dixon sfc
Hon. Secretary — James Miller, 5 South Hanover st
Superintendent — John Macdonald, 4 Bath st
The object of this Mission is to seek out all such blind rjersons who
are not cared for otherwise, and to endeavour as much as possible to
ameliorate their condition in regard to their temporal as well as their
spiritual interests, by visiting them at their own homes, teaching them
to read, and providing for them the free use of a well-selected library in
raised types, by helping such as are able to work to find suitable employ-
ment ; and in regard to those who are unfit for any employment from
age or infirmity, to assist in obtaining adequate aid for them from paro-
chial authorities, asylums for the blind, or otherwise. It employs seven
missionaries, and has under its care upwards of 1,000 blind people, resi-
dent in Glasgow and the Counties of Lanark, Renfrew, and Ayr.
THE FERGUSON BEQUEST FUND,
(Incorporated by Act of Parliament.)
94 Bath Street.
Secretary— M. S. Tait
The annual income of the fund is for the maintenance and promotion
of Religious Ordinances and Education, and Missionary operations, in
the first instance in the county of Ayr, Stewartry of Kirkcudbright, and
counties of Wigtown, Lauark, Renfrew, and Dumbarton ; by means of
payments for the erection or support of churches and schools (excepting
parish churches and parish schools) in connection with Quoad Sacra
Churehes belonging to the Established Church ,and with the Free Church,
the United Presbyterian Church, the Reformed Presbyterian Church,
and the Congregational or Independent Church, all in Scotland or any
of them ; or in supplement of the stipends of the ministers of the said
Quoad Sacra and other four churches, and in supplement of the salaries
of religious missionaries and teachers of schools of the said Quoad Sacra
and other four churches, and for forming and maintaining libraries for
the use of the general public — such missionaries, schools, and libraries
being under the management of members in full communion with one or
other of the said five churches.
AGED WOMEN'S SOCIETY.
President — Mrs. Buchanan, Milton of Campsie
Treasure] — Mrs. E. Caird, The College
Secretary — Mrs. Pollock, 15 Kerrslaud ter
Instituted in 1811, by Mrs. Routledge, wife of the late Very Rev.
Dean Routledge, for the benefit of the poor women connected with
St. Andrew's (Episcopal ) Church ; but it is now not confined thereto,
but embraces indigent females, who must be above sixty years of age, of
any sect. Anyone-subscribing 20s. or 10s. for two years, is entitled to
recommend one pensioner, who is balloted for to receive half-a-crown
monthly. Eighteen ladies act as visitors, who, with the office-bearers,
meet tiro first Wednesday of every mouth in the Religious Institution
Rooms, 172 Buchanan street.
GLASGOW MATERNITY HOSPITAL,
North Portland Street.
Consulting Surgeon— Professor George Buchanan
Senior Consulting Physician — Professor Leishnian
Consulting Physician — Dr. Hugh Miller
Obstetric Physicians— Dr. Samuel Sloan & Dr. W. L. Reid
Assistant Obstetric Physicians— Dr. Wm. Muir & Dr. Archibald Sloan
Pathologist — Dr. David Newman
Outdoor Physicians— Dr. John Dunlop, 528 St. Vincent st; Dr. T. F.
Gilmour, i7 West Scotland st. Plantation ; Dr. H. B. Wilson, 123 New
Dalmarnock rd ; Dr. Malcolm Black, 177 Stirling rd ; Dr. John
Ritchie, 155 Garscube rd. & Dr. Alexander Jamieson, 584 Rutherglcn
road
Matron— Miss Gordon
Hon. Treasurer— James Reid
Secretary — Arthur Forbes
Cashier — Adam Sutherland
Collector— William Bcattie
GLASGOW ASYLUM FOR THE BLIND,
108 Castle Street.
President — The Lord Provost
Hon. Vice-Presidents — His Grace the Duke of Argyll, Lord Blantyre,
Charles Cameron, ll.d. H.r\ George Anderson, Robert T.
Middleton, M.P. Sir Charles Tennant, H.p. and James A. Campbell,
M.p.
Chairman of Managers — Sir James Watson
Treasurer £• Secretary — John Tasker, 26 Royal Exchange sq
Surgeon — Thomai Lapraik
Superintendent— Thomas Stoddard
Matron — Mrs. Jollie
Teacher — Harriet Neil
Teacher of Music — Miss Inskip
Musical Director— Principal Campbell, Royal Norman College for the
Blind, Norwood
LADIES' AUXILIARY TO THE GLASGOW MISSION TO THE
OUT-DOOR BLIND,
6 Bath Street.
For visiting blind females, and through means of a female teacher
teaching them knitting, and providing work for them. The work
of the society is carried on at 6 Bath street, where all kinds of
knitted work done by the blind is sold, and orders or work
taken in.
President — Mrs. Campbell, 6 Claremont gardens
Treasurer— Miss Blyth, 23 Belmont st
Secretary — Miss Arrol, 18 Blythswood sq
GLASGOW HIGHLAND SOCIETY.
President — John N. Cuthbertson
Treasurer d- Secretary— R. Hope Robertson, 58 St. Vincent st
Directors— Archibald Galbroith, L. Mackay, Rev. D. M'Leod, D D.
G. H. B. M'Leod, m.d. J. B. M'Brayne, R. Chiystal, James Hannon,
S,. Mackenzie, jun. J. N. Cuthbertson, W. Maclean, J. R. Macarthur,
and A. Robertson
Boxmasters — James Dewar & C.Campbell
Head Master — D. Murray
Officer— Hugh R. Miller
School — 69 Montrose st
GLASGOW ELDERS' WIVES' & DAUGHTERS' ASSOCIATION IN
CONNECTION WITH THE CHURCH OF SCOTLAND.
Chairman — James Hannan
Secretary— Rev. Robert Dickson, St. David's parish, 5 Broomnark ter
Treasurer— Thomas Watson, 50 West Regent st
Physician— Vi: M'Lean, 121 Douglas st
Matron— Miss Boss, The Home, 13 Canning place
The Association's chief work is training orphan and destitute girls as
domestic servants in the Home, 13 and 15 Canning place
354
GLASGOW MAGDALENE INSTITUTION
(Incorporated by Royal Charter.)
Office, 17 Stirling Road.
President— James Hannan
Secretcwy — R. "W. Sinclair "
Physician — J. Gray, m.d.
Auditor — Alexander Moore, C.A.
Assistant Collector — William Beattie
Applicants for admission are received at the Probationary Home, 17
Stirling road, where accommodation is provided for fifty inmates. The
Society's reformatory and industrial work is prosecuted at the Home,
Lockburn, Maryhill, which affords accommodation for 180 inmates.
MILLAE AND PEADIE'S SCHOOL FOE GIRLS,
151 George Street.
President— Rev. Robert Dickson
Governors— The Principal and Professor of Divinity of the University,
the Ministers of ten Established Churches of Glasgow, and an Elder
from each of the ten Kirk Sessions
Head Mistress — Miss Johan Baxter
Assistant Schoolmistress — Annie Turner
Clerics & Treastirers — Hill, Davidson & Hoggan, 194 Ingram st
The late Archibald Millar, merchant, Glasgow, in 1790, left his estate
for the purpose of educating and clothing girls who are the children of
"reputable parents," and under the care of "reputable" people. This
institution was opened in 1806. One hundred girls are in the enjoyment
of its privileges. The applicants must produce certificates of their ages
from the Session Clerk of the parish in which they were born, and a
medical certificate that they are free from all infectious disease. The
applicants must be eight years old at least, and not nine, reckoning from
the 1st of March annually. They are maintained at the institution for
four years.
EYE INFIRMARY,
170 Berkeley Street, & 76 Charlotte Street.
President — James King, •
Treasurer— George Munsie, 109 Virginia place
Joint Se e re taries— George & William George Black, 88 West Regent st
Senior Surgeoji — Thomas Reid, m.d.
Surgeo ns— Thomas S. Meighan, m.d ; Henry E. Clark, M.R.C.S, & J.
Crawford Renton, m.d.
Assistant Surgeons — D. N. Knox, m.a.,h.b ; Johnstone Macfie, m.d. &
A. Freeland Fergus, m.b.,o.m.
House Surgeon — Donald A. Mackintosh, m.b.,c.m.
Consulting Surge on— George Buchanan, m.d.
House Steward & Collector — David Anderson
Housekeeper — Miss Baxter
Housekeepers at Charlotte street— Mr. & Mrs. J. Hunter
Open every d&y at 1 p.m. (Sundays excepted). The internal accommo-
dation of Glasgow Eye Infirmary is 110 beds. The number of patienta
â– annually is upwards of 13,500,

Set display mode to: Large image | Transcription
Images and transcriptions on this page, including medium image downloads, may be used under the Creative Commons Attribution 4.0 International Licence unless otherwise stated.
(648)

| | |
| --- | --- |
| Permanent URL | https://digital.nls.uk/90651200 |
1886 - Slater's (late Pigot and Co's) Royal national commercial directory and topography of Scotland
Attribution and copyright:

The physical item used to create this digital version is out of copyright
digitised by courtesy of The Mitchell Library, Glasgow City Council

More information
1882-1915 - Slater's Royal National Commercial Directory of Scotland
Description
Published in Manchester, 1882-[1915]. Continued by: Kelly's - Slater's - Royal National Directory of Scotland.
Shelfmark
Various
More information
Scotland

| | |
| --- | --- |
| Description | Directories of the whole, or large parts of, Scotland. |
Scottish Post Office Directories

| | |
| --- | --- |
| Description | Around 700 Scottish directories published annually by the Post Office or private publishers between 1773 and 1911. Most of Scotland covered, with a focus on Edinburgh, Glasgow, Dundee and Aberdeen. Most volumes include a general directory (A-Z by surname), street directory (A-Z by street) and trade directory (A-Z by trade). |