Thumbnail gallery: Grid view | List view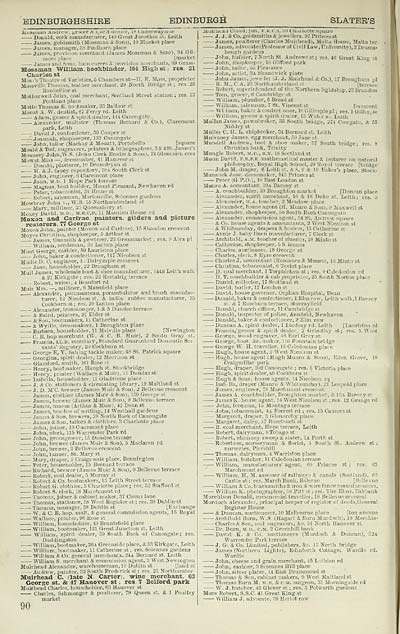 EDINBURGHSHIRE
EDINBURGH
SLATER'S
Mussuian Andrew, grocer do spirit dealer, is Uausewaysule
Donald, cork manufacturer, 140 Great Junction st. Leith
James, goldsmith (Mossman & Sons), 10 Elaeket place
James, manager, 3S Pindhorn place
James, provision merchant (James Mossman & Sons), 94 Gil-
more place [market
James and Sons, ham curers & provision merchants, 69 Grass-
Mossman William, bookbinder, 104 Highst; res. 21
Cfcarlesst
Mos,'s Theatre of Varieties, 5 Chambers st— H. E. Moss, proprietor
Mossville Thomas, leather merchant, 29 North Bridge st ; res. 25
Kankeillor st
Motherwell John, coal merchant, Scotland Street station ; res. 13
Portland place
Motte Thomas E. bo jtmaker, 23 Balfour st
Mouat A. W. dentist, 67 Ferry rd. Leith
. Adam, grocer & spirit dealer, 114 Canongate .
Alexander, maltster (Thomas Bernard & Co.), Claremont
park, Leith
David J. confectioner, 39 Couper st
- Joannah, shopkeeper, 132 Canongate
John, tailor (Mackay & Mouat), Portobello [square
Mould & Tod. engravers, printers & lithographers, 3 & 4 St. James's
Mounsey John,W.S. (John Clerk Brodie & Sons), 24Gleneaini ores
Mowat Miss — , dressmaker, 41 Hanover st
Donald, plasterer, 10 Drumdryan st
H. & J. fancy repository, 78a South Clerk st
John, engineer, 6 Claremont place
Joun, M.D. 1 Hope Park terrace
. Magnus, boat builder, Mount Pleasant, Newhaven rd
Peter, tobacconist, 24 Home st
Hobert, salesman, MarionviUe, Sciennes gardens
Mowbray John I ., W.S. 15 Northumberland st
Mary, milliner, 25 Queensferry st
Moxey David, M.D., m.r.c.p. 11 Mansion House rd
Moxon and Carfrae. painters, gilders and picture
restorers, 77 George st
Moxon John, painter (Moxon and Carfrae), 15 Shandon crescent
Moyes Christina, shopkeeper, 5 Arthur st
James, tinsmith & pewterer, 23 Grassmarket ; res. 9 Alva pi
William, seedsman, 30 Lutton place
Moat George, cashier, 59 Lauriston place
John, baker & confectioner, 117 Nicolson st
MudieD. C. engineer, 1< Dalrymple crescent
Jane, householder, 22 Brougham st
Muil James, wholesale boot & shoe manufacturer, 144B Leith walk
& 27 Kirkgate ; res. 22 Eestalrig terrace
Robert, writer, 4 Beaufort rd
Muir Mrs. — , milliner, 6 Mansfield place
. Alexander, portmanteau, perambulator and brush manufac-
turer, 12 Nicolson st. & india rubber manufacturer, 15
Cockburn st ; res. 29 Lutton place
Alexander, ironmonger, 1 & 5 Dundee terrace
. & Paird, printers, 27 Elder st
& Son, bootmakers, 11 Catherine st
& Wyllie, dressmakers, 1 Broughton place
. Barbara, householder. 11 Melville place [Newington
C. B. hop merchant (W. & C. B. Muir), 2 South Gray St.
Prancis, ll.d. secretary, Standard Guaranteed Domestic Ser-
vants' Kegistry, 20 Cockburn st
George E, X. fishing tackle maker, 48 St. Patrick square
Georgina, spirit dealer, 12 Morrison st
Glassford, smith, 161 Rose st
Henry, bootmaker, Haugh St. Stockbridge
Henry, printer (Wallace & Muir), 11 Dundas st
Isabella, householder, 11 Gladstone place
J. & Co. stationers & circulating library, 19 Maitland st
J. D. M'C. brewer (James Muir & Son), 2 Bellevue crescent
James, clothier (James Muir & Son), 139 George st
James, brewer (James Muir & Son), 9 Bellevue terrace
James, mason (Arthur & Muir). 47 Dean st
James, teacher of writing, 14 Westhall gardens
. James & Son, brewers, 28 North Back of Canongate
James & Son, tailors & clothiers, 3 Charlotte place
John, joiner, 10 C>aremont place
John, clerk, 115 Warrender Park rd
John, greengrocer, 15 Dundee terrace
John, brewer (James Muir & Son), 5 Maclaren rd
John, brewer, 2 Bellevue crescent
John, tanner, St. Mary st
â– Mary, draper, 5 Craigrossie place, Bonnington
Peter, householder, 15 Bernard terrace
Richard, brewer (James Muir & Son), 9 Bellevue terrace
â– Robert, coal dealer, 3 Murray st
Robert & Co. bootmakers, 13 Leith Street terrace
Robert G. clothier, 3 Charlotte place ; res. 32 Stafford st
Robert S. clerk, 18 Marchmont rd
Thomas, joiner & cabinet maker, 37 Circus lane
Thomas, stationer, 38 West Register st ; res. 38 Dublin-st
Thomas, manager, 38 Dublin st [Exchange
W. & C. B. hop. malt, & general commission agents, 15 Royal
Wallace, printer, 96 Rose st
William, householder, 40 Bruntsfield place
William, bootmaker, 131 Great Junction st. Leith
William, spirit dealer, 39 South Back of Canongate; res.
Duddingston
William, bootmaker, 26a Greenside place, & 53 Kirkgate, Leith
William, bootmaker, 11 Catherine st ; res. Sciennes gardens
William & Co. general merchants, 24a Bernard st. Leith
William S, merchant & commission agent, 3 West Newington
Muirhead Alexander, warehouseman, 10 Dublin st [land st
Andrew, painter, 32 South Frederick st; res. 23 Northumber-
Muirhead C. (late N. Carter), wine merchant, 63
George St. & 47 Hanover st ; res. 7 Belford park
Muirhead Charles, householder, 63 Hanover st
Charles, fishmonger & poulterer, 79 Queen st. & 1 Poultry
market
90
Muirutad Claud, jun. f.k.c.s. 3u Charlotte square
J. J. & Co. goldsmiths & jewellers, 97 Princes st
James, poulterer (Charles Muirhead), Malta House, Malta ter
James, advocate (Professor of Civil Law, University), 2 Drums-
heugh gardens
John, builder, 7 North St. Andrews st; rea. 46 Great King st
John, shopkeeper, 16 Gifford park
John, tailor, 55 Pleasance
John, artist, 3a Shandwick place
John James, jeweiler (J. J. Muirhead & Co.), 17 Brougham pi
R. M., C.A. 23 Northumberland st ' [terrace
Robert, superintendent of the Northern lightship, 23 Brandon
Tom, grocer, 6 Cambridge st
"William, plumber, 5 Bread st
William, salesman, 7 St. Vincent, st [crescent
â– Wi liam, baker & confectioner, 10 Gillespie pi ; res. 1 Gillespie
William, grocer & spirit dealer, 13 Wattr si>. Leith
Mullan James, pawnbroker, 35 South bridge, 274 Cowgate, & 55
Niddry st
Miiller C. H. L. shipbroker, "4 Bernard st. Leith
Mulvaney .lames, ege merchant, 50 Jane st
Mundell Andrew, boot & shoe maker, 37 South bridge; res. 8
Christian bank, Trinity
Mungle Robert, M.D., b.n. 18 Scotland st
Muim David, f.r.s.e. mathematical master & lecturer on natural
philosophy, Royal High School, 29 Royal terrace [bridge
John M. draper, 6 Leith st. & 8, 9 & 10 Baker's place, Stock-
Munnock Jane, dressmaker, 143 Princes at
Peter (G-.P.O.), 10 East London st
Munro A. accountant, 19a Barony st
A. coacbbuilder, 20 Broughton market [Duncan place
Alexander, spirit merchant, 16 & 18 Duke st. Leith; res. 5
Alexander, si. a. teacher, 2 Meadow place
Alexander, house agent (H. Munro &, Son), 9 Hiaxwell st
Alexander, shopkeeper, 56 South Back Canongate
Alexander, commission agent, 34 St. Andrew square
&, Co. house agents & accountants, 2 West Nicolson st
& Whitsunday, drapers & hosiers, 13 Catherine st
Annie J. baby linen manufacturer, 7 Clerk st
Archibald, a.m. teacher of classics, 18 Minto st
Catherine, shopkeeper. 5 S.iennea
Charles, auctioneer, 18 George st
Charles, clerk, 8 Eyre crescent
Charles J. accountant (Romanes & Munro), IS Minto st
Christina, tobacconist, 6 Teviot place
â– D. coal merchant, 1 Torphichen st ; res. 9 Caledonian rd
D. T. coachbuilder & cab proprietor, 25 South Norton place
Daniel, collector, 17 Scotland at T
David, butler, 17 London st
David, house governor, Orphan Hospital, Dean
Donald, baker & confectioner, 1 Elm row, Leith walk, I Barony
st. & 7 Roseburn terrace, Murrayfield
Donald, church officer, 11 Cambridge st
Donald, inspector of police, Anniield, Newhaven
Donald, baker & confectioner, 2 Elm row
Duncan A. spirit dealer, 1 Lindsay rd. Leith [Laurisfion pi
Francis, "grocer & spirit dealer, 2 Grindlay st ; res. 5 West
George, wood engraver, 46 Earl Grey st
George, boot, &c. maker, 110 Fountain bridge
â– George W. H. traveller, 16 Ciledonian place
Hugh, house agent, 2 West Nicolson st
Hugh, house agent (Hugh Munro & Sons), Eden Grove, IS
Craigmillar park
Hugh, draper, 202 Canongate ; res. 8 Victoria place
Hugh, spirit dealer, 48 Cockburn st
Hugh & Sons, house agents, 14 Nicolson sq
Isah-lla, draper (Munro & Whitsunday), 21 Leopold place
James, engineer, 78 Marchmont crescent
James A. coachbuilder, Broughton market, & 19a Barony st
James K. house agent. 14 West Nicolson st ; rea. 12 Grange rd
John, foreman, 15 Montagu terrace
John, tobacconist, 4a Forrest rd ; res. 15 Cannon st
Margaret, draper, 3 Glenorchy place
Mavgaret, dairy, 27 Buccleuch st
R. coal merchant, Hope terrace, Leith
Robert, dairyman, 8 Tobago st
Robert, chimney sweep & slater, 1a Forth st
Robertson, nurseryman & florist, 4 South St. Andrew st ;
nurseries, Piershill
Thomas, dairyman, 4 Warriston place
William, butcher, 11 Caledonian terrace
William, manufacturers' agent, 60 Princes st ; rea. 83
Marchmont rd
William, H. M- assessor of railways & canals (Scotland), 63
Castle st; res. March Bank, Balerno [Bellevue
William & Co. blacksmiths & iron &. wire fence manufacturers,
William K. photographer, 58 Pitt st ; res. The Elms, Esklank
Murchison Donald, commercial traveller, 19 Bellevue crescent
Murdoch Alexander, principal keeper of register of deeds,General
Register House
& Duncan, auctioneers, 10 Melbourne place [ton avenue
â– Archibald Burn, W.S. (Hagart &Burn Murdoch), 10 Merchis-
Charles & Son, seal engravers, &c. 51 North Hanover st
Dr. Burn, M.D., cm. 2 Greenhill bank
David K. & Co. auctioneers (Murdoch & Duncan), 32a
Warrender Park terrace
J. G. & Co. Limited, publishers, &e. 13 North bridge
James (Northern Lights), Edinforth Cottage, Wardie
War die
John, cheese and grain merchant, 45 Lothian rd
John, cashier, 3 Sciennes Hill place
John, silver plater, 14 East Drummond st
Thomas & Son, cabinet makers, 9 West Maitland st
Thomas Burn M. m.b. & cm. surgeon, 31 Morningside rd
W. J. butcher, 43 Glover st ; res, 3 Polwarth gardens
Mure Robert, S.S.C. 41 Great King st
William J. advocate, 39 Heriofe row
rd.

Set display mode to: Large image | Transcription
Images and transcriptions on this page, including medium image downloads, may be used under the Creative Commons Attribution 4.0 International Licence unless otherwise stated.
(134)

| | |
| --- | --- |
| Permanent URL | https://digital.nls.uk/90645032 |
1886 - Slater's (late Pigot and Co's) Royal national commercial directory and topography of Scotland
Attribution and copyright:

The physical item used to create this digital version is out of copyright
digitised by courtesy of The Mitchell Library, Glasgow City Council

More information
1882-1915 - Slater's Royal National Commercial Directory of Scotland
Description
Published in Manchester, 1882-[1915]. Continued by: Kelly's - Slater's - Royal National Directory of Scotland.
Shelfmark
Various
More information
Scotland

| | |
| --- | --- |
| Description | Directories of the whole, or large parts of, Scotland. |
Scottish Post Office Directories

| | |
| --- | --- |
| Description | Around 700 Scottish directories published annually by the Post Office or private publishers between 1773 and 1911. Most of Scotland covered, with a focus on Edinburgh, Glasgow, Dundee and Aberdeen. Most volumes include a general directory (A-Z by surname), street directory (A-Z by street) and trade directory (A-Z by trade). |