Thumbnail gallery: Grid view | List view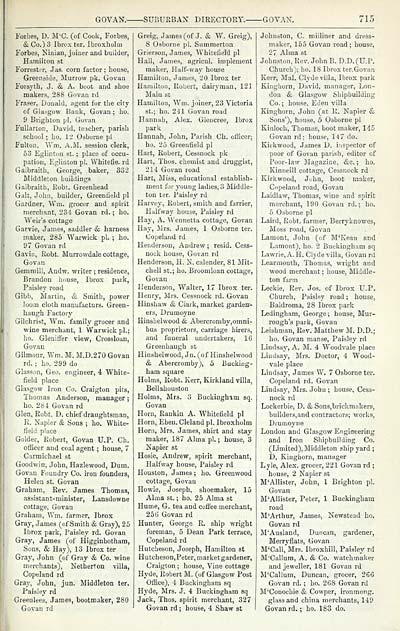 GOVAN.-
-SUBURBAN DIRECTORY.
-GOVAN.
715
Forbes, D. M'C. (of Cook, Forbes,
& Co.) 3 Ibrox ter. Ibroxholm
Forbes, Ninian, joiner and builder,
Hamilton st
Forrester, Jas. corn factor ; house,
Greenside, Murrow pk. Govan
Forsyth, J. & A. boot and shoe
makers, 288 Govan rd
Fraser, Donald, agent for the city
of Glasgow Bank, Govan ; ho.
9 Brighton pi. Govan
Fullarton, David, teacher, parish
school ; ho. 1 2 Osborne pi
Fulton, Wm. A.M. session clerk,
53 Eglinton st. ; place of occu-
pation, Egliuton pi. Whitefie. rd
Galbraith, George, baker, 332
Middle ton buildings
Galbraith, Robt. Greenhead
Gait, John, builder, Greenfield pi
Gardner, Wm. grocer and spirit
merchant, 234 Govan rd. ; ho.
Weir's cottage
Garvie, James, saddler & harness
maker, 285 Warwick pi. ; ho.
97 Govan rd
Gavin, Robt. Murrowdale cottage,
Govan
Gemmili, Andw. writer ; residence,
Brandon house, Ibrox park,
Paisley road
Gibb, Martin, & Sniitb, power
loom cloth manufacturs. Green-
haugh Factory
Gilchrist, Wm. family grocer and
wine merchant, 1 Warwick pi.;
ho. Gleniffer view, Crossloan,
Govan
Gilmour, Wm. M. M.D.270 Govan
rd. ; ho. 299 do
Glasson, Geo. engineer, 4 White-
field place
Glasgow Iron Co. Craigton pits,
Thomas Anderson, manager ;
ho. 284 Govan rd
Glen, Robt. D. chief draughtsman,
R. Napier & Sons ; ho. White-
field place
Golder, Robert, Govan U.P. Ch.
officer and coal agent ; house, 7
Carmichael st
Goodwin, John, Hazlewood, Dum.
Govan Foundry Co. iron founders,
Helen st. Govan
Graham, Rev. James Thomas,
assistant-minister, Lansdowne
cottage, Govan
Graham, Wm. farmer, Ibrox
Gray, James (of Smith & Gray), 25
Ibrox park, Paisley rd. Govan
Gray, James (of Higginbotham,
Sons, & Hay), 13 Ibrox ter
Gray, John (of Gray & Co. wine
merchants), Netherton villa,
Copeland rd
Gray, John, jun. Middleton ter.
Paisley rd
Greenlees, James, bootmaker, 280
Govan rd
Greig, James (of J. & W. Greig),
8 Osborne pi. Summerton
Grierson, James, Whitefield pi
Hall, James, agricul. implement
maker, Half-way house
Hamilton, James, 20 Ibrox ter
Hamilton, Robert, dairyman, 121
Main st
Hamilton, Wm. joiner, 23 Victoria
st.; ho. 241 Govan road
Hannah, Alex. Glencree, Ibrox
park
Hannah, John, Parish Ch. officer;
ho. 25 Greenfield pi
Hart, Robert, Cessnock pk
Hart, Thos. chemist and druggist,
214 Govan road
Hart, Miss, educational establish-
ment for young ladies, 3 Middle-
ton ter. Paisley rd
Harvey, Robert, smith and farrier,
Halfway bouse, Paisley rd
Hay, A. Wennetta cottage, Govan
Hay, Mrs. James, 1 Osborne ter.
Copeland rd
Henderson, Andrew ; resid. Cess-
nock house, Govan rd
Henderson, H. N. calender, 81 Mit-
chell st.; ho. Broomloan cottage,
Govan
Henderson, Walter, 17 Ibrox ter.
Henry, Mrs. Cessnock rd. Govan
Hinshaw & Ciark, market garden-
ers, Drumoyne
Hinshelwood & Abercromby,omni-
bus proprietors, carriage hirers,
and funeral undertakers, 16
Greenhaugh st
Hinshelwood, Jn. (of Hinshelwood
& Abercromby), 5 Bucking-
ham square
Holms, Robt. Kerr, Kirkland villa,
Bellahouston
Holms, Mrs. 3 Buckingham sq.
Govan
Horn, Rankin A. Whitefield pi
Horn, Eben. Cleland pi. Ibroxholm
Horn, Mrs. James, shirt and stay
maker, 187 Alma pi. ; house, 3
Napier st
Hosie, Andrew, spirit merchant,
Halfway house, Paisley rd
Houston, James ; ho. Greenwood
cottage, Govan
Howie, Joseph, shoemaker, 15
Alma st. ; ho. 25 Alma st
Hume, G. tea and coffee merchant,
256 Govan rd
Hunter, George R. ship wright
foreman, 5 Dean Park terrace,
Copeland rd
Hutcheson, Joseph, Hamilton st
Hutcheson, Peter, market gardener,
Craigton; house, Vine cottage
Hyde, Robert M. (of Glasgow Post
Office), 4 Buckingham sq
Hyde, Mrs. J. 4 Buckingham sq
Jack, Thos. spirit merchant, 327
Govan rd ; house, 4 Shaw st
Johnston, C. milliner and dress-
maker, 155 Govan road; house,
27 Alma st
Johnston, Rev. John B. D.D. (U.P.
Church); ho. 18 Ibrox ter. Govan
Kerr, Mai. Clyde villa, Ibrox park
Kinghorn, David, manager, Lon-
don & Glasgow Shipbuilding-
Co. ; house, Eden villa
Kinghorn, John (at R. Napier &,
Sons'), house, 5 Osborne pi
Kinloch, Thomas, boot maker, 145
Govan rd; house, 147 do.
Kirkwood, James D. inspector of
poor of Govan parish, editor of
Poor-law Magazine, &c. ; ho.
Kinneill cottage, Cessnock rd
Kirkwood, John, boot maker,
Copeland road, Govan
Laidlaw, Thomas, wine and spirit
merchant, 190 Govan rd. ; ho.
5 Osborne pi
Laird, Robt. farmer, Berryknowes,
Moss road, Govan
Lamont, John (of M'Kean and
Lamont), ho. 2 Buckingham sq
Lawrie, A. H. Clyde villa, Govan rd
Learmouth, Thomas, wright and
wood merchant ; house, Middle-
ton farm
Leckie, Rev. Jos. of Ibrox U.P.
Church, Paisley road ; house,
Baldroma, 28 Ibrox park
Ledingham, George; house, Mur-
rough's park, Govan
Leishman, Rev. Matthew M. D.D.;
ho. Govan manse, Paisley rd
Lindsay, A. M. 4 Woodvale place
Lindsay, Mrs. Doctor, 4 Wood-
vale place
Lindsay, James W. 7 Osborne ter.
Copeland rd. Govan
Lindsay, Mrs. John ; house, Cess-
nock rd
Lockerbie, D. & Sons,brickmakers,
builders,and contractors; works,
Drumoyne
London and Glasgow Engineering
and Iron Shipbuilding Co.
(Limited), Middleton ship yard ;
D. Kinghorn, manager
Lyle, Alex, grocer, 221 Govan rd ;
house, 2 Napier st
M'Allister, John, 1 Brighton pi.
Govan
MAllister, Peter, 1 Buckingham
road
MArthur, James, Newstead ho.
Govan rd
MAusland, Duncan, gardener,
Merryflats, Govan
M'Call, Mrs. Ibroxhill, Paisley rd
M'Callum, A. & Co. watchmaker
and jeweller, 181 Govan rd
M'Callum, Duncan, grocer, 266
Govan rd. ; ho. 268 Govan rd
M'Conochie & Cowper, ironmong.
glass and china merchants, 149
Govan rd.; ho. 183 do.

Set display mode to: Large image | Transcription
Images and transcriptions on this page, including medium image downloads, may be used under the Creative Commons Attribution 4.0 International Licence unless otherwise stated.
(743)
Permanent URL
https://digital.nls.uk/84401743
More information
1870-1871
Description
Post-Office annual Glasgow directory 1870-1871
Shelfmark
NH.675-676
Additional NLS resources:
Attribution and copyright:

The physical item used to create this digital version is out of copyright

More information
1828-1912 - Post-Office annual Glasgow directory
Description
Glasgow : Printed by J. Graham for the letter-carriers of the Post-Office, 1828-? Imprint and title vary. [Varying forms of title: Glasgow Post-Office directory, Glasgow Post-Office annual directory, Post Office Glasgow annual directory.]
Shelfmark
Various
More information
Towns

| | |
| --- | --- |
| Description | Directories of individual Scottish towns and their suburbs. |
Scottish Post Office Directories

| | |
| --- | --- |
| Description | Around 700 Scottish directories published annually by the Post Office or private publishers between 1773 and 1911. Most of Scotland covered, with a focus on Edinburgh, Glasgow, Dundee and Aberdeen. Most volumes include a general directory (A-Z by surname), street directory (A-Z by street) and trade directory (A-Z by trade). |