Thumbnail gallery: Grid view | List view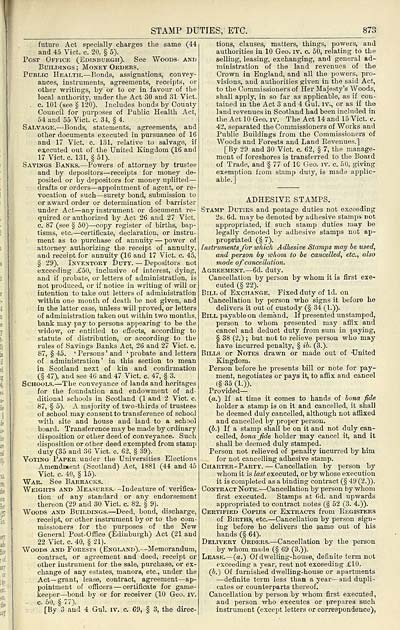 STAMP DUTIES, ETC.
87c
future Act specially charges the same (44
and 45 Vict. c. 20. § 5).
Post Office (Edinburgh). See Woods- and
Buildings; Money Orders.
Public Health. — Bonds, assignations, convey-
ances, instruments, agreements, receipts, or
other writings, by or to or in favour of the
local authority, under the Act 30 and 31 Vict.
. c. 101 (see § 120). Includes bonds by' County
Council for purposes of Public Health Act,
54 and 55 Vict. c. 34, § 4.
Salvage. — Bonds, statements, agreements, and
other documents executed in pursuance of 16
and 17 Vict. c. 131, relative to salvage, if
executed out of the United Kingdom (16 and
17 Vict, c. 131, § 51).
Savings Banks. — Powers of attorney by trustee
and by depositors — receipts for money de-
posited or by depositors for money uplifted —
drafts or orders — appointment of agent, or re-
vocation of such — surety bond, submission to
or award order or determination of barrister
under Act — any instrument or document re-
quired or authorized by Act 26 and 27 Vict.
c. 87 (see § 50) — copy register of births, bap-
tisms, etc. — certificate, declaration, or instru-
ment as to purchase of annuity — power of
attorney authorizing the receipt of annuity,
and receipt for annuity (16 and 17 Vict. c. 45,
§ 29). Inventory Duty. — Depositors not
exceeding £50, inclusive of interest, dying,
and if probate, or letters of administration, is
not produced, or if notice in writing of will or
intention to take out letters of administration
within one month of death be not given, and
in the latter case, unless will proved, or letters
of administration taken out within two months,
bank may pay to persons appearing to be the
widow, or entitled to effects, according to
statute of distribution, or according to the
rules of Savings Banks Act, 26 and 27 Vict. c.
87, § 45. ' Persons ' and ' probate and letters
of administration' in this section to mean
in Scotland next of kin and confirmation
(§ 47), and see 46 and 47 Vict. c. 47, § 3.
Schools. — The conveyance of lands and heritages
for the foundation and endowment of ad-
ditional schools in Scotland (1 and 2 Vict. c.
87, § 5). A majority of two-thirds of trustees*
of school may consent to transference of school
with site and house and land to a school
board. Transference may be made by ordinary
disposition or other deed of conveyance. Such
disposition or other deed exempted from stamp
duty (35 and 36 Vict. c. 62, § 39).
Voting Paper under the Universities Elections
Amendment (Scotland) Act, 1881 (44 and 45
Vict. c. 40, § 15).
War. See Barracks.
Weights and Measures.- —Indenture of verifica-
tion of any standard or any endorsement
thereon (29 and 30 Vict. c. 82, § 9).
Woods and Buildings. — Deed, bond, discharge,
receipt, or other instrument by or to the com-
missioners for the purposes of the New
General Post-Office (Edinburgh) Act (21 and
22 Vict. c. 40, § 21).
Woods and Forests (England). — Memorandum,
contract, or agreement and deed, receipt or
other instrument for the sale, purchase, or ex-
change of any estates, manors, etc., under the
Act— grant, lease, contract, agreement — ap-
pointment of officers — certificate for game-
keeper — bond by or for receiver (10 Geo. iv.
- c. 50, § 77).
[By 3 and 4 Gul. iv. c. 69, § 3, the direc-
tions, clauses, matters, things, powers, and
authorities in 10 Geo. iv. c. 50, relating to the
selling, leasing, exchanging, and general ad-
ministration of the land revenues of the
Crown in England, and all the powers, pro-
visions, and authorities given in the said Act,
to the Commissioners of Her Majesty's Woods,
shall apply, in so far as applicable, as if con-
tained in the Act 3 and 4 Gul. iv., or as if the
land revenues in Scotland had been included in
the Act 10 Geo. iv. The Act 14 and 15 Vict. c.
42, separated the Commissioners of Works and
Public Buildings from the Commissioners of
Woods and Forests and Land Revenues.]
[By 29 and 30 Vict. c. 62, § 7, the manage-
ment of foreshores is transferred to the Board
of Trade, and § 77 of 10 Geo. iv. c. 50, giving
exemption from stamp duty, is made applic-
able.]
ADHESIVE STAMPS.
Stamp Duties and postage duties not exceeding
2s. 6d. may be denoted by adhesive stamps not
appropriated, if such stamp duties may be
legally denoted by adhesive stamps not ap-
propriated (§ 7).
Instruments for which Adhesive Stamps may he used,
and person by whom to be cancelled, etc., also
mode of cancellation.
Agreement. — 6d. duty.
Cancellation by person by whom it is first exe-
cuted (§ 22).
Bill of Exchange. Fixed duty of Id. on
Cancellation by person who signs it before he
delivers it out of custody (§ 34 (1.)).
Bill payable on demand. If presented unstamped,
person to whom presented may affix and
cancel and deduct duty from sum in paying,
§ 38 (2.) ; but not to relieve person who may
have incurred penalty, § ib. (3.).
Bills or Notes drawn or made out of United
Kingdom.
Person before he presents bill or note for pay-
ment, negotiates or pays it, to affix and cancel
(§ 35 (1.)).
Provided —
(a.) If at time it comes to hands of bona fide
holder a stamp is on it and cancelled, it shall
be deemed duly cancelled, although not affixed
and cancelled by proper person.
(b.) If a stamp shall be on it and not duly can-
celled, bona fide holder may cancel it, and it
shall be deemed duly stamped.
Person not relieved of penalty incurred by him
for not cancelling adhesive stamp.
Charter- Party. — Cancellation by person by
whom it is last executed, or by whose execution
it is completed as a binding contract (§ 49 (2.)).
Contract Note. — Cancellation by person by whom
first executed. Stamps at 6d. and upwards
appropriated to contract notes (§ 52 (3. 4.)).
Certified Coples or Extracts from Registers
of Births, etc. — Cancellation by person sign-
ing before he delivers the same out of his
hands (§ 64).
Delivery Orders. — Cancellation by the person
by whom made (§ 69 (3.)).
Lease. — (a.) Of dwelling-house, definite term not
exceeding a year, reat not exceeding £10.
(6.) Of furnished dwelling-house or apartments
— definite term less than a year — and dupli-
cates or counterparts thereof.
Cancellation by person by whom first executed ,
and person who executes or prepares such
instrument (except letters or correspondence),

Set display mode to: Large image | Transcription
Images and transcriptions on this page, including medium image downloads, may be used under the Creative Commons Attribution 4.0 International Licence unless otherwise stated.
(931)

| | |
| --- | --- |
| Permanent URL | https://digital.nls.uk/83665746 |
1892-1893
Description
Post-Office Edinburgh & Leith directory 1892-93
Shelfmark
POE
Additional NLS resources:
Attribution and copyright:

The physical item used to create this digital version is out of copyright

More information
1846-1975 - Post Office Edinburgh and Leith directory
Description
Edinburgh : Postmaster General, [1846-1975]. Preceded by: Edinburgh & Leith Post Office Directory Limited.
Shelfmark
Various
More information
Towns

| | |
| --- | --- |
| Description | Directories of individual Scottish towns and their suburbs. |
Scottish Post Office Directories

| | |
| --- | --- |
| Description | Around 700 Scottish directories published annually by the Post Office or private publishers between 1773 and 1911. Most of Scotland covered, with a focus on Edinburgh, Glasgow, Dundee and Aberdeen. Most volumes include a general directory (A-Z by surname), street directory (A-Z by street) and trade directory (A-Z by trade). |