Commentary
This ballad begins: 'Here's to the year that awa, / We will drink it in strong and in sma' / An' here's to ilk bonnie lassie we lo'e'.
This contemplative New Year song, addresses many popular broadside themes in its short verses. Love, death, war, travel, friendship and adversity are all mentioned here, and can be found in most of the sheets held in the National Library of Scotland's collection. These topics were important to Scottish society as a whole, and would have been instantly recognisable to most of the audience. Although a little dismal at first sight, this song does convey a feeling of closure, and readiness for a fresh start.
Early ballads were dramatic or humorous narrative songs derived from folk culture that predated printing. Originally perpetuated by word of mouth, many ballads survive because they were recorded on broadsides. Musical notation was rarely printed, as tunes were usually established favourites. The term 'ballad' eventually applied more broadly to any kind of topical or popular verse.

Probable period of publication: 1830-1850 shelfmark: L.C.Fol.178.A.2(121)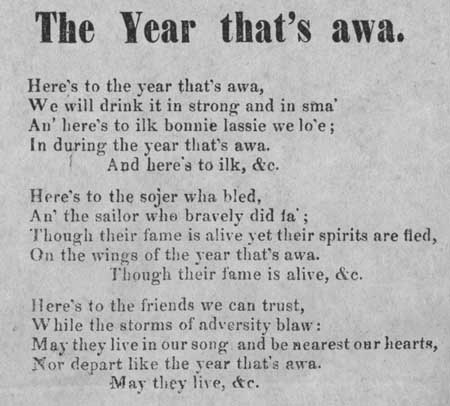 View larger image