Commentary
This ballad begins: 'As I went out one morning clear down by yon river side, / I overheard a fair maid, the tears rolling down did glide, / This is a cold and stormy night, these words I heard her say / My lover is on the ocean wide bound for America.' It was published by James Lindsay of 11 King Street, Glasgow, and probably sold for one penny.
Although no publication date has been included on this broadside, it is thought to have been published between 1860 and 1894 - the years during which Lindsay had premises at 11 King Street. 'John Reilly' combines two popular themes found in many traditional ballads, those of tragic love and emigration. The ballad ends on a rather predictable note, with the star-crossed lovers perishing on the high seas.
Early ballads were dramatic or humorous narrative songs derived from folk culture that predated printing. Originally perpetuated by word of mouth, many ballads survive because they were recorded on broadsides. Musical notation was rarely printed, as tunes were usually established favourites. The term 'ballad' eventually applied more broadly to any kind of topical or popular verse.

Probable period of publication: 1860-1880 shelfmark: L.C.Fol.178.A.2(072)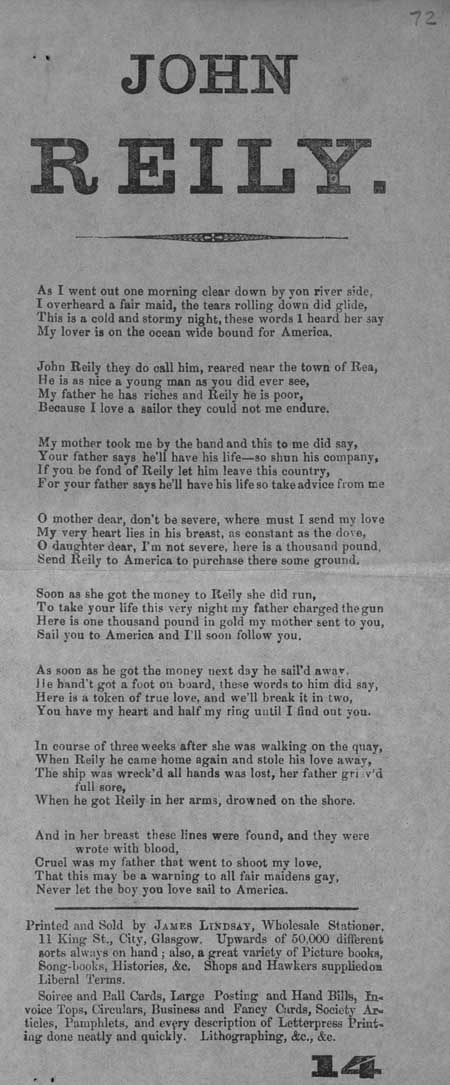 View larger image