Commentary
Verse 1 begins: 'My name is Ted O'Mannon, I come from sweet Killarney O, / Sure I can whistle, I can sing, sure I can plough, and I can sow'. There is a woodcut of a traveller or rustic man carrying a tall stick above the song. Unusually two encore verses have been provided at the bottom of the sheet.There are no publication details given, but this is one of two songs - printed by James Lindsay - on this sheet.
The song also goes by the titles 'The Lads who Live in Ireland' and 'Where the Apple Praties Grow', and sometimes the main character 'Ted' can be found as 'Ned'. This song was later claimed by James Seymour as his composition but this is difficult to verify. The word 'praties' is transliterated Irish 'pratai' or potato. Cooking apples and potatoes together and serving with pork seems to have been a beloved twist on today's apple sauce and pork.
Early ballads were dramatic or humorous narrative songs derived from folk culture that predated printing. Originally perpetuated by word of mouth, many ballads survive because they were recorded on broadsides. Musical notation was rarely printed, as tunes were usually established favourites. The term 'ballad' eventually applied more broadly to any kind of topical or popular verse.

Probable period of publication: 1860-1880 shelfmark: L.C.Fol.178.A.2(066)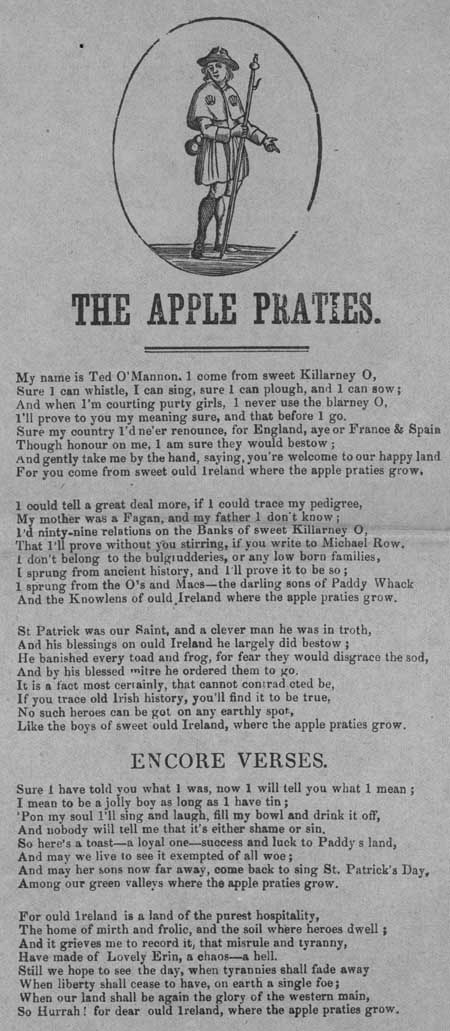 View larger image