Commentary
Verse 1 begins: 'As I walked out one midsummer's morning, / To view the fields and take the air'.
This song, believed to be a traditional English folksong, can also often be found under the title 'The Sweet Primroses' or 'The Sweet Primeroses'. It was a popular tune amongst broadside publishers, possibly because its neutral content had a wide appeal. It eventually became very popular in America and has since been included in many American collections of family song books.
Early ballads were dramatic or humorous narrative songs derived from folk culture that predated printing. Originally perpetuated by word of mouth, many ballads survive because they were recorded on broadsides. Musical notation was rarely printed, as tunes were usually established favourites. The term 'ballad' eventually applied more broadly to any kind of topical or popular verse.

Probable period of publication: 1840-1860 shelfmark: L.C.Fol.70(141c)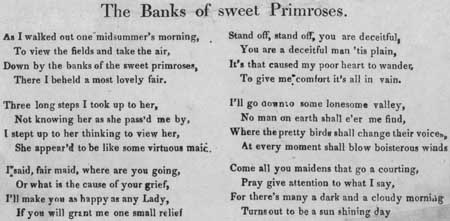 View larger image