Commentary
'Allen and Sally' begins: ''Twas in the evening of a wintry day, / Then just returning from a long campaign'. 'Banks of Clyde' begins: 'When I was young and youth did bloom, / Where fancy led me I did rove'. The sheet was published by John Harkness of Church Street, Preston.
The two ballads on this broadside are quite different in tone. 'Allen and Sally' is a song about a wife failing to recognise her husband on his return from battle because he has been so altered by his experiences. 'Banks of Clyde' appears at first to be a romantic song, but in fact culminates in a very cruel, darkly humorous manner, with the narrator seducing the girl he has enchanted and then abandoning her with false promises of future meetings.
Early ballads were dramatic or humorous narrative songs derived from folk culture that predated printing. Originally perpetuated by word of mouth, many ballads survive because they were recorded on broadsides. Musical notation was rarely printed, as tunes were usually established favourites. The term 'ballad' eventually applied more broadly to any kind of topical or popular verse.

Probable period of publication: 1860-1880 shelfmark: L.C.Fol.178.A.2(347)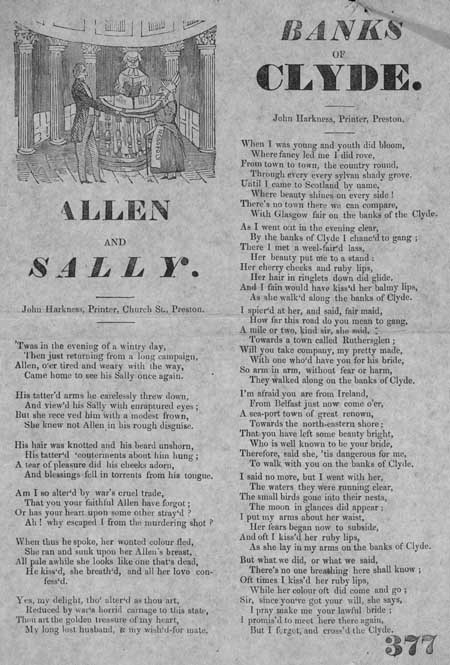 View larger image