Commentary
'Loch Na Garr' begins: 'Away, ye gay landscapes! Ye gardens of roses, / In you let the minions of luxury rove'. 'Feyther's Old Sow' begins: 'Good morrow, Miss Biddy, pray how do you do / I dare say you gusses at what I become about'. The broadside was published by Harkness, printer, of Church Street in Preston. It does not carry a date of publication.
'Loch na Garr' was written by George Gordon, Lord Byron (1788-1824), a poet of huge international renown. Byron passed the first ten years of his life in Aberdeen and spent holidays in a farm in Deeside, which gave him a love of the Aberdeenshire countryside that is celebrated in this poem. Lochnagar, the mountain that gives this poem its title, was also the inspiration for a picture book, 'The Old Man of Lochnagar', written by Prince Charles in the 1970s. The author of 'Feyther's Old Sow' is not printed on the sheet, but it is probably safe to assume it was not written by Lord Byron!
Early ballads were dramatic or humorous narrative songs derived from folk culture that predated printing. Originally perpetuated by word of mouth, many ballads survive because they were recorded on broadsides. Musical notation was rarely printed, as tunes were usually established favourites. The term 'ballad' eventually applied more broadly to any kind of topical or popular verse.

Probable period of publication: 1860-1880 shelfmark: L.C.Fol.178.A.2(318)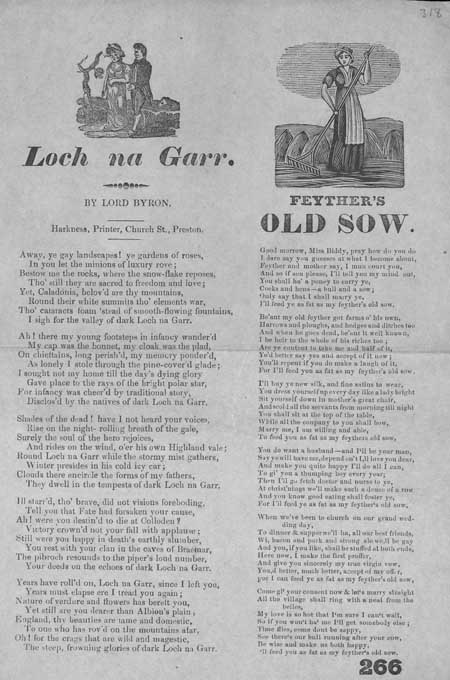 View larger image