Commentary
'Darlin' Old Stick' begins: 'My name is bold Morgan M'Carthy, from Trim, / My relations all dead, except one brother Jim'. 'Loch Katrine Water' begins: 'The brave highland chieftains went forth hand in hand, / For to welcome their Queen at the head of their clan'. The author of 'Loch Katrine Water' is given as 'JOHN WILSON, Ballad-Singer', and the poem is dedicated to 'Her Majesty'. The sheet carries no date or publication details.
'Loch Katrine Water' is a poem inspired by Queen Victoria's opening of the Loch Katrine Water Supply Scheme in October 1859. The building of 26 miles of aqueduct and a storage reservoir at Mugdock allowed fresh water from Loch Katrine to be distributed to Glasgow, ending the city's reliance on old wells and reducing the danger from water-borne disease such as cholera. Loch Katrine is also famous as the inspiration for Sir Walter Scott's poem 'The Lady of the Lake'. 'Darlin' Old Stick' mentions 'Cow-bull', or Kabul, which is probably a reference to the British Army's Afghanistan Campaign, and thus dates this broadside to later than 1878, when the Afghanistan Campaign began.
Early ballads were dramatic or humorous narrative songs derived from folk culture that predated printing. Originally perpetuated by word of mouth, many ballads survive because they were recorded on broadsides. Musical notation was rarely printed, as tunes were usually established favourites. The term 'ballad' eventually applied more broadly to any kind of topical or popular verse.

Probable period of publication: 1860-1880 shelfmark: L.C.Fol.178.A.2(300)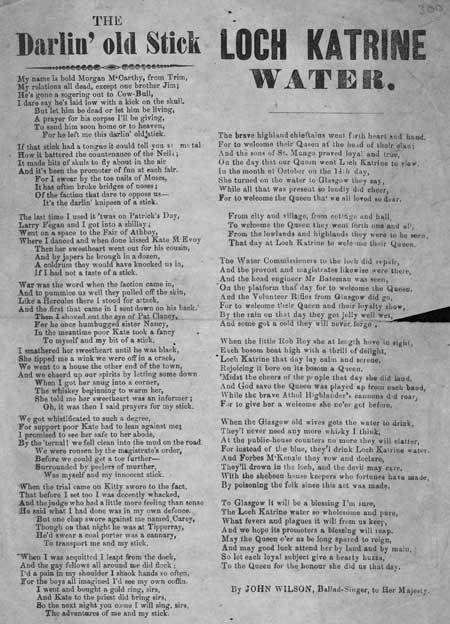 View larger image