Commentary
Verse 1: 'See yon braw bit laddie comin' rinnin' down the street, / Weel happit frae the caul' blast, an' a' sae clean an' neat: / His bonnet cocket on his head, his shoon sae tight an' clean - / There's an unco change com' o'er him now - the drunkard's raggit wean.' This song was written by John Barr of Glasgow. The sheet carries no publication details.
'The Unco Change' is a sequel to a ballad entitled 'The Drunkard's Raggit Wean', which painted a tragic picture of a child left threadbare, hungry and lonely by his drunken parents. 'The Drunkard's Raggit Wean' was reprinted many times and was also mentioned in other ballads, suggesting that it had had a powerful impact on its hearers. In 'The Unco Change', the author John Barr optimistically imagines the parents from the earlier poem joining the Temperance Movement, and giving their children the happy life they deserve.
Early ballads were dramatic or humorous narrative songs derived from folk culture that predated printing. Originally perpetuated by word of mouth, many ballads survive because they were recorded on broadsides. Musical notation was rarely printed, as tunes were usually established favourites. The term 'ballad' eventually applied more broadly to any kind of topical or popular verse.

Probable period of publication: 1830-1850 shelfmark: L.C.Fol.178.A.2(235)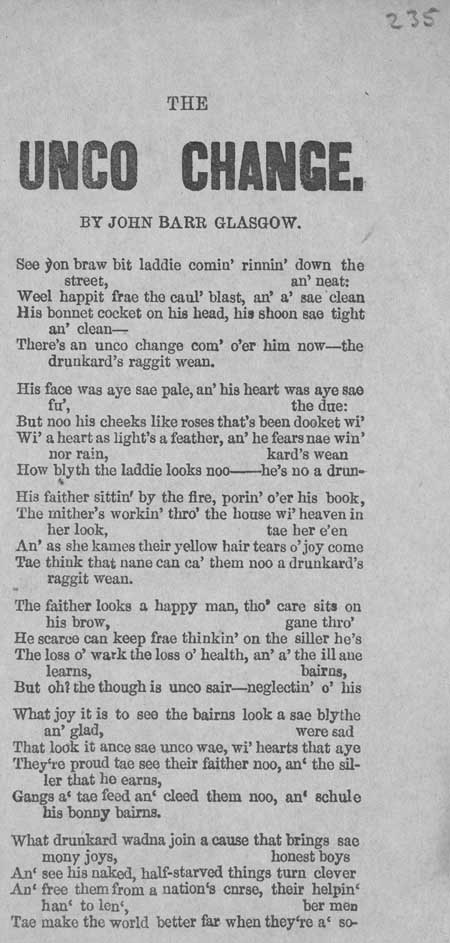 View larger image