Commentary
Verse 1: 'The storm rag'd o'er ilka hill, / The wind blew hard, but Tam was still; / far, far frae hame a grave doth fill, / The warmest hearted Tammy, O.' This ballad was to be sung to the tune 'Gloomy Winter's now awa'. The sheet does not carry any publication details.
'Gardner Tammy' is a simple song about a young man who has died, apparently from a broken heart. Like many broadside ballads it was written to be sung to a pre-existing tune, described as being the tune of 'Gloomy Winter's now awa' by the Paisley weaver poet Robert Tannahill (1774-1810). However, this tune also predates Tannahill's song. It was arranged for 'Gloomy Winter's now awa' by Tannahill's regular arranger and composer R.A. Smith, but authorship of the melody has been attributed to both the violinist Nathaniel Gow (1766-1831) and Alexander Campbell (1764-1824).
Early ballads were dramatic or humorous narrative songs derived from folk culture that predated printing. Originally perpetuated by word of mouth, many ballads survive because they were recorded on broadsides. Musical notation was rarely printed, as tunes were usually established favourites. The term 'ballad' eventually applied more broadly to any kind of topical or popular verse.

Probable period of publication: 1830-1850 shelfmark: L.C.Fol.178.A.2(232)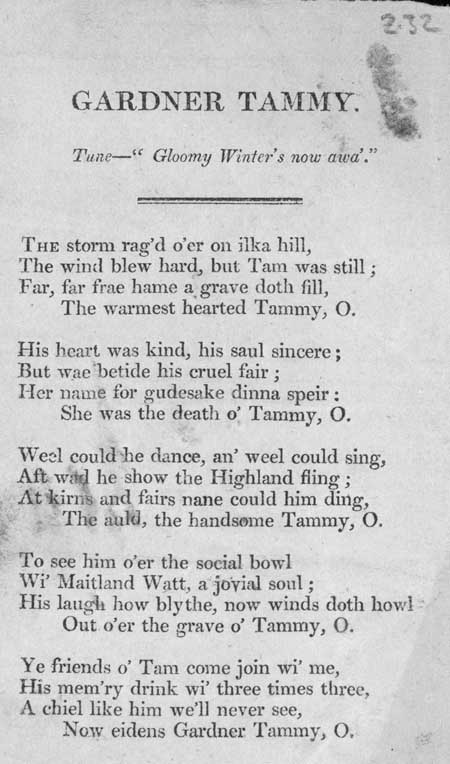 View larger image