Commentary
This ballad begins: 'TOM. / COME, neighbours, no longer be patient and quiet / Come let us go kick up a bit of a riot; / I am hungry, my lads, but I've little to eat, / Sio we'll pull down the mills, and seize all the meat: / I'll give you good sport, boys, as ever you saw, / Sp a fig for the Justice, a fig for the law.' It was to be sung to the tune of 'A Cobler there was'. The broadside was published by R. Morison of Perth and is not priced or dated.
'The Riot' probably dates from the first haf of the nineteenth century, when there was frequent civil unrest over Corn Laws. The first Corn Law of 1804 imposed a duty on imported foreign grain, in order to encourage sales of British grain, and the Corn Law of 1815 stated that this duty would only be suspended when British grain reached a price of 80 shillings per quarter. After a poor harvest in 1816, there were food riots across Britain, and protests continued until the repeal of the Corn Laws in 1846. This ballad offers both sides of the argument, but ultimately seems to advise that rioting is pointless, and that the government can not be blamed for poor harvests and bad weather.
Early ballads were dramatic or humorous narrative songs derived from folk culture that predated printing. Originally perpetuated by word of mouth, many ballads survive because they were recorded on broadsides. Musical notation was rarely printed, as tunes were usually established favourites. The term 'ballad' eventually applied more broadly to any kind of topical or popular verse.

Probable date published: 1800- shelfmark: APS.4.202.09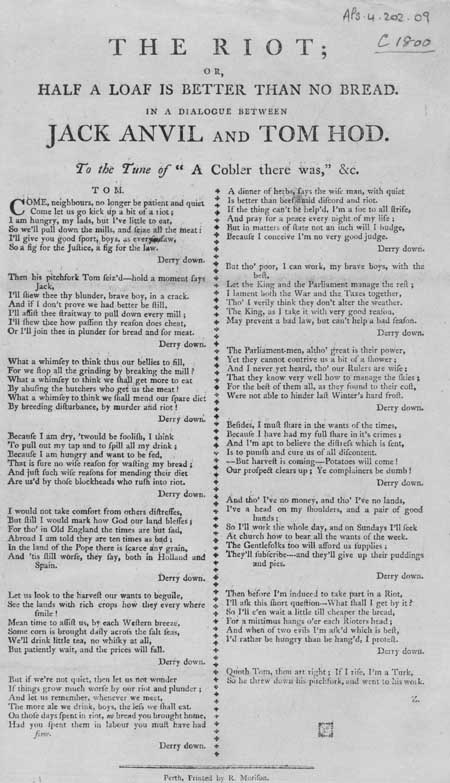 View larger image