Commentary
This lamentation begins: 'Alas! Our Kirk has got a Scoup, / Upon her Covenanted Doup, / I fear she run the Gauntlet Loup, / For all her Leagues.' A note under the title reads, 'Licenced and Entered according to Order.' It was published by John Morphew near Stationer's Hall, London, in 1711.
A large number of the broadsides in the National Library of Scotland's collection chart the political and religious tensions that existed in eighteenth- and nineteenth-century Britain. In particular, there are numerous accounts detailing the political wranglings between the Tory and Whig parties. In this mock lamentation, the Whigs announce 'We preach the things we do not practise, / The guilded Bait that dims our Eyes, / Is Pride and Self'!
Whig was first used as an abusive term to describe those who opposed the religious reforms of King Charles II, and by 1679 was the name given to those who opposed the succession of James II - a staunch Catholic. In political life it became synonymous with those who advocated parliamentary power over the crown, also known as liberals or radicals, as opposed to the Torys who believed in the supreme power of the crown.

Date of publication: 1711 shelfmark: APS.4.96.34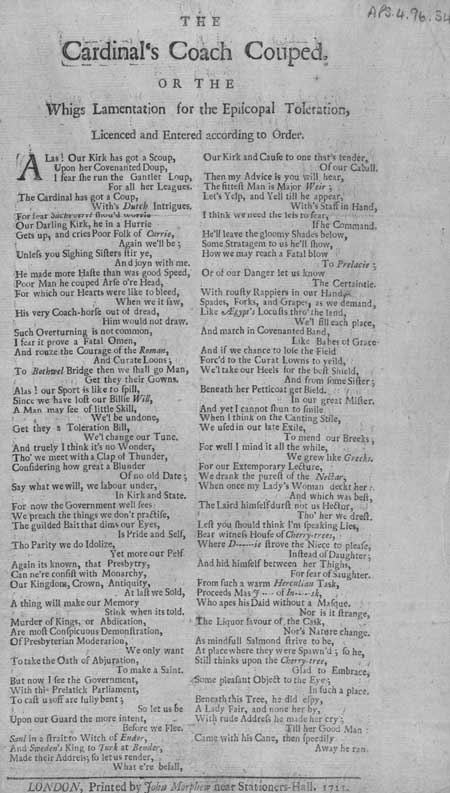 View larger image