Commentary
Following on from the title, this crime report continues: 'Who were Executed at the West End of the Tolbooth of Edinburgh, on Wednesday the 21st of January, 1807, for the Crime of Horse Stealing; contained in Two Letters from them to their Wives, written by their own hands.' A note at the foot of the sheet states that it was published by 'Angus, Printer'.
Although the headline claims that these letters were written by the two condemned men, Thomas Smith and George Stephenson, there is no factual evidence to support this claim. Both men were sentenced to death for stealing two horses from the farm of Rev. James Maitland Robertson, the Minister of Livingston, and one horse from William Glendinning of Livingston Mill. When the ultimate sentence was decreed, the prisoners fell to their knees and begged the judges and jury to recommend them for mercy. Although the penalty looks severe to a modern audience, the 'Criminal Code' (the 'Bloody Code') that existed in Scotland from 1650 to 1850 meant that property was safeguarded at all costs - hence the death sentence.
Reports recounting dark and salacious deeds were popular with the public, and, like today's sensationalist tabloids, sold in large numbers. Crimes could generate sequences of sheets covering descriptive accounts, court proceedings, last words, lamentations and executions as they occurred. As competition was fierce, immediacy was paramount, and these occasions provided an opportunity for printers and patterers to maximise sales.

Date of publication: 1807 shelfmark: APS.4.96.2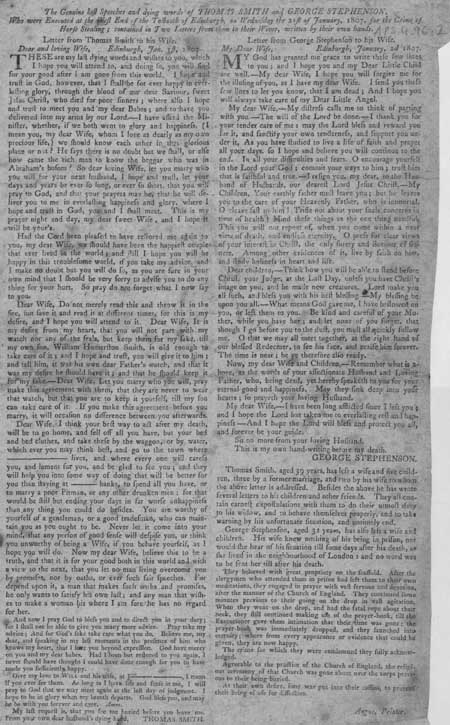 View larger image