Commentary
This notice begins: 'Query 1. If the speaker on the 23rd of February, 1784, lives in the neighbouring city, and pays no stent [rent] to the town, and no tax to the poor, and does not own the authority of the Provost, nor even the power of a town-officer, to seize a delinquent in a neighbouring city, what right had he to speak in that meeting?' Although no publication details are included on the sheet, the first query includes the date, the 23rd of February, 1784.
This light-hearted broadside appears to refer to some obscure incident that took place during a meeting in Glasgow in 1784. The reference in 'Query 10' to the India bill appears to allude to Prime Minister William Pitt's (1759-1806) India Act of 1784. Likewise, the mentioning of 'the Fox' could be a reference to Charles James Fox (1749-1806), who was a Whig statesman. The India Act of 1784 was passed to regulate the affairs of the East India Company in India, and placed the Company under the under a Board of Control. It appears that this broadside notice is asking the citizens of Glasgow for their opinions on this matter.
Early ballads were dramatic or humorous narrative songs derived from folk culture that predated printing. Originally perpetuated by word of mouth, many ballads survive because they were recorded on broadsides. Musical notation was rarely printed, as tunes were usually established favourites. The term 'ballad' eventually applied more broadly to any kind of topical or popular verse.

Date published: 1784 shelfmark: APS.4.95.14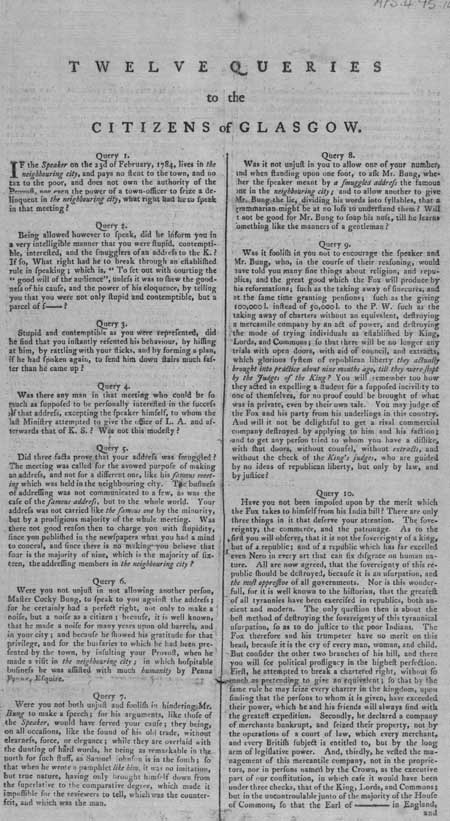 View larger image