Commentary
Following on from the title, this crime report continues: 'Wife of the Miscreant BURKE, who was Strangled to Death by a number of Women at Deanstone Mills about a mile from Doun near Perth.' The sheet it dated the 25th of April, 1829, and was most likely published in Glasgow. A note at the foot of the sheet states it was 'Printed for D. Glen'.
This broadside supposedly tells of the tragic fate that befell Helen McDougall, who was married to the notorious bodysnatcher, William Burke. However, there is also a second report on this sheet, which claims that Burke's accomplice, William Hare, had also been murdered. After fleeing vengeful mobs in Edinburgh and Glasgow, the writer claims, Helen McDougall's new partner found work in a mill in Perth. After her identity became known, however, it seems that a mob from the mill beat her to death. The second story recounts that William Hare, who had turned King's Evidence to incriminate his partner in crime, seemingly met the same violent end as Helen McDougall. Hare actually survived and apparently died in obscurity in London around 1860.
Reports recounting dark and salacious deeds were popular with the public, and, like today's sensationalist tabloids, sold in large numbers. Crimes could generate sequences of sheets covering descriptive accounts, court proceedings, last words, lamentations and executions as they occurred. As competition was fierce, immediacy was paramount, and these occasions provided an opportunity for printers and patterers to maximise sales.

Date published: 1829 shelfmark: APS.4.95.13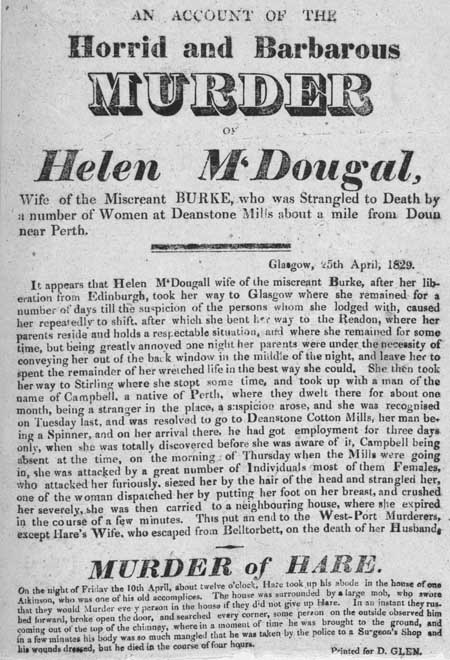 View larger image