Commentary
This execution notice begins: 'A full and true account of the Behaviour and Execution of MARGARET WISHART, who was Executed at Forfar, on Saturday last the 16th June, 1827, for the horrid and cruel murder of her own blind sister. With the proceedings at the place of Execution. Also an account of the dreadful noises which were heard in the house lately occupied by her.' It was published by John Muir of Glasgow and probably sold for one penny.
Crime reports were by far and away the most popular amongst the broadside readership; the more gruesome the crime, the more copies sold! In many cases a particular crime could generate a sequence of sheets covering everything from the discovery of a body and the apprehension of the criminal to the trial and, in most cases, the execution of the culprit. This particular execution notice ends with the suggestion that Margaret Wishart caused much disturbance after her death by haunting her old house in Orchard Road, Arbroath.
Broadsides are single sheets of paper, printed on one side, to be read unfolded. They carried public information such as proclamations as well as ballads and news of the day. Cheaply available, they were sold on the streets by pedlars and chapmen. Broadsides offer a valuable insight into many aspects of the society they were published in, and the National Library of Scotland holds over 250,000 of them.

Date of publication: 1827 shelfmark: APS.4.95.12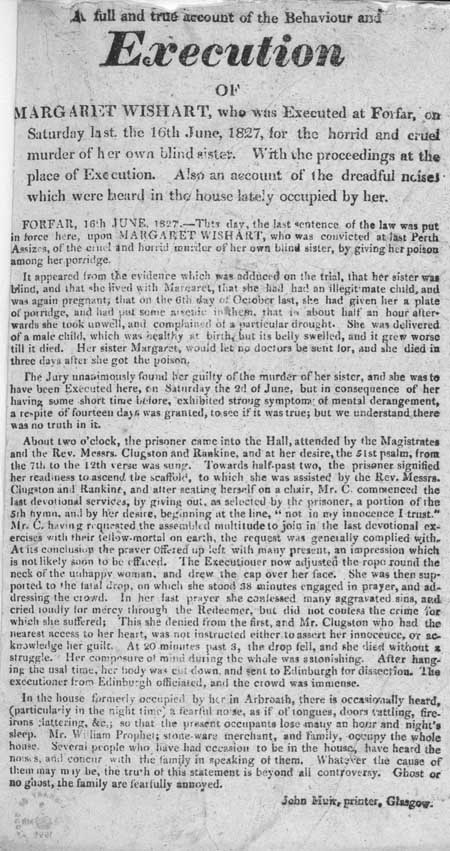 View larger image