Commentary
This ballad begins: 'THE glitter of the richly embroider'd Colours waving in the breeze. / The unclouded Sun, shedding a mild lustre over all these. / The gradually swelling back ground, covered with shady trees, / On, or under, which sat many a spectator, more or less at ease.' It was sourced from the 'Glasgow Courier' of the 26th May, 1795.
It was common practice for broadside publishers to source their material from the newspapers of the day. With no copyright law in place, original works could be reproduced at will with no obligation to acknowledge or seek permission from the author. It is worth noting that broadsides, mainly due to their affordability, reached a far larger audience than the heavily-taxed, and therefore expensive, newspapers of the day.
Early ballads were dramatic or humorous narrative songs derived from folk culture that predated printing. Originally perpetuated by word of mouth, many ballads survive because they were recorded on broadsides. Musical notation was rarely printed, as tunes were usually established favourites. The term 'ballad' eventually applied more broadly to any kind of topical or popular verse.

Probable date published: 1795 shelfmark: APS.4.88.22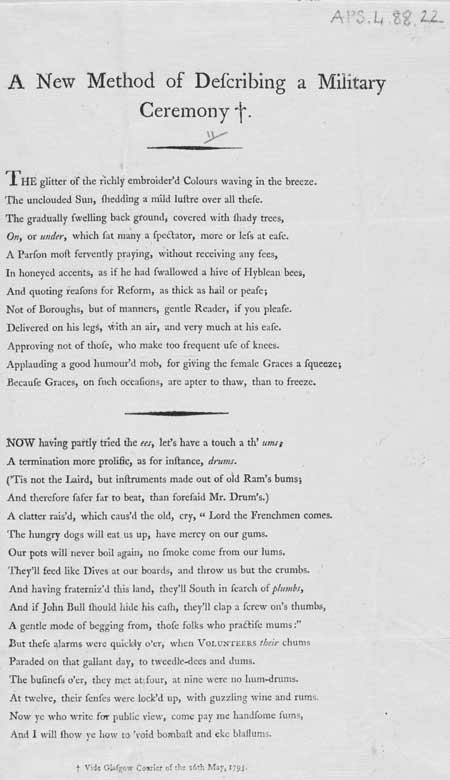 View larger image