Commentary
This ballad begins: 'COLD and raw the North did blow, / Bleak in the morning early; / All the trees were hid with snow / Covered with winter early'. A rather crude woodcut has been included on this sheet depicting a man and woman on horseback. The woman has just escaped across the river, while her pursuer looks on in frustration. There is a town and a hill in the background of the image.
This altercation between a reluctant English maid and Scots man is given very little context other than their interaction. The maid eventually escapes from the man across the river, taking some of his money with her. The woodcut at the top would have increased the sheet's perceived value. It would also have helped enhance the appreciation of the ballad, as it sums up the final scene in the narrative.
Early ballads were dramatic or humorous narrative songs derived from folk culture that predated printing. Originally perpetuated by word of mouth, many ballads survive because they were recorded on broadsides. Musical notation was rarely printed, as tunes were usually established favourites. The term 'ballad' eventually applied more broadly to any kind of topical or popular verse.

Probable date published: 1800- shelfmark: APS.4.84.18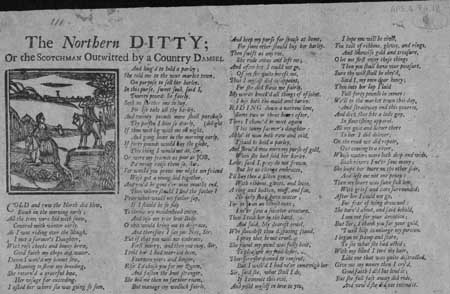 View larger image