Commentary
The first verse reads: 'Come all young men and maidens atend unto my ryme, / Tis of a lovely female was scarcely in her prime, / Her cheeks they were like a rose admired all around, / She was call'd young Carroline of Edinborough Town'. It was advertised as 'A much admired song' and includes a woodcut illustration of a haughty young woman being pursued by a man pulling a cart. The broadside was published by P. Brereton [?] of Dublin, and probably sold for one penny.
In typical ballad style, there is a tragic end and, most importantly, a moral to the tale of 'Carroline of Edinburgh Town'. After finding what she believes to be true love with 'Young Henery', and subsequently meeting the disapproval of her parents, Caroline is persuaded to run off with her sweetheart. Once she is far from home, she soon discovers his true nature and, in her misery, resorts to suicide. This tragic, but highly formulaic, tale not only carries a warning for young women to be wary when they fall in love, but also for parents to be more tolerant and understanding.
Early ballads were dramatic or humorous narrative songs derived from folk culture that predated printing. Originally perpetuated by word of mouth, many ballads survive because they were recorded on broadsides. Musical notation was rarely printed, as tunes were usually established favourites. The term 'ballad' eventually applied more broadly to any kind of topical or popular verse.

Probable period of publication: 1860-1870 shelfmark: APS.3.96.25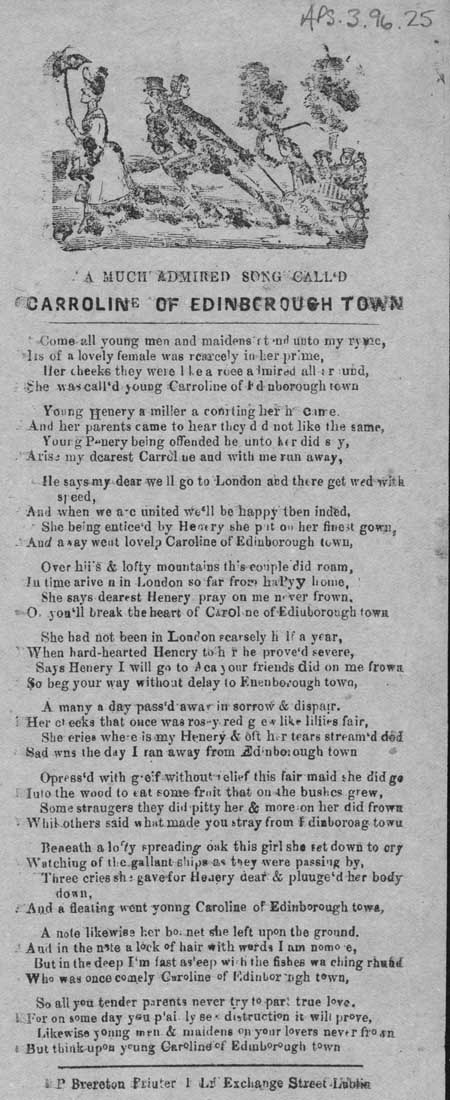 View larger image