Commentary
The first verse reads: '"O ring of which the ruby is out-fall!" / So sang Dan Chaucer in the olden day, / So sang he quaintly in his golden way / A song that sorrow will for aye recall.' It was written by Kelso Kelly.
This elegy lingers on the deep friendship that obviously existed between James Fleming Cannon and the author, Kelso Kelly. Whilst mourning the death of his friend, Kelly is reassured by his memories and the belief that 'Thy gracious presence, too, shall stay with me ; / The good dies not ; the face, the form may pass, / But ever ever clear as in a glass / The mind can mirror what sight cannot see.' To warrant this elegy and its publication, James Fleming Cannon must have been a well-known figure. Although he has since disappeared into obscurity, this tribute has succeeded in keeping his memory alive.
Early ballads were dramatic or humorous narrative songs derived from folk culture that predated printing. Originally perpetuated by word of mouth, many ballads survive because they were recorded on broadsides. Musical notation was rarely printed, as tunes were usually established favourites. The term 'ballad' eventually applied more broadly to any kind of topical or popular verse.

Probable period of publication: 1890-1900 shelfmark: APS.3.91.18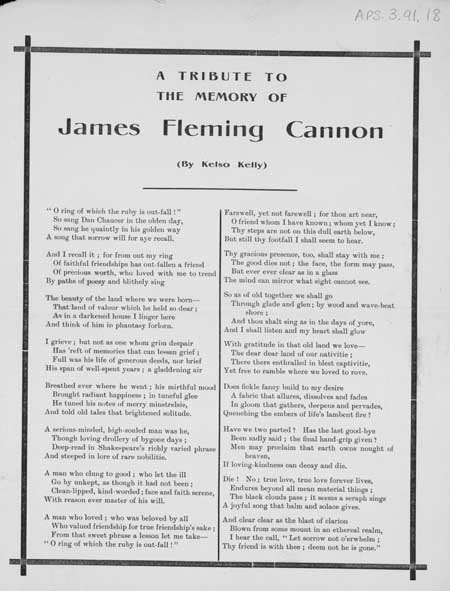 View larger image