Commentary
This trial report begins: 'An Account of the Trial and Sentence of Alexander Robertson, Alexander Archibald, James Dickson and James M'Millan, for breaking into the City Auction Mart, in the Candleriggs, Glasgow.' It is dated the 1st March, 1819 and was published for John Moir or Muir.
According to this report, after stealing a considerable number of valuable items from the Mart, three of the men absconded to Edinburgh where they were arrested on Thursday 8th October. The fourth man, Alexander Archibald, also fled but was soon tracked down and arrested. As detailed in this report, Alexander Robertson was sentenced to be executed for his part in the crime, whilst his three accomplices were 'banished' or transported for fourteen years. The records show that Roberston was indeed executed in the Jail Square, Glasgow, on the 7th April, 1819.
Reports recounting dark and salacious deeds were popular with the public, and, like today's sensationalist tabloids, sold in large numbers. Crimes could generate sequences of sheets covering descriptive accounts, court proceedings, last words, lamentations and executions as they occurred. As competition was fierce, immediacy was paramount, and these occasions provided an opportunity for printers and patterers to maximise sales.

Probable date published: 1819 shelfmark: APS.4.82.35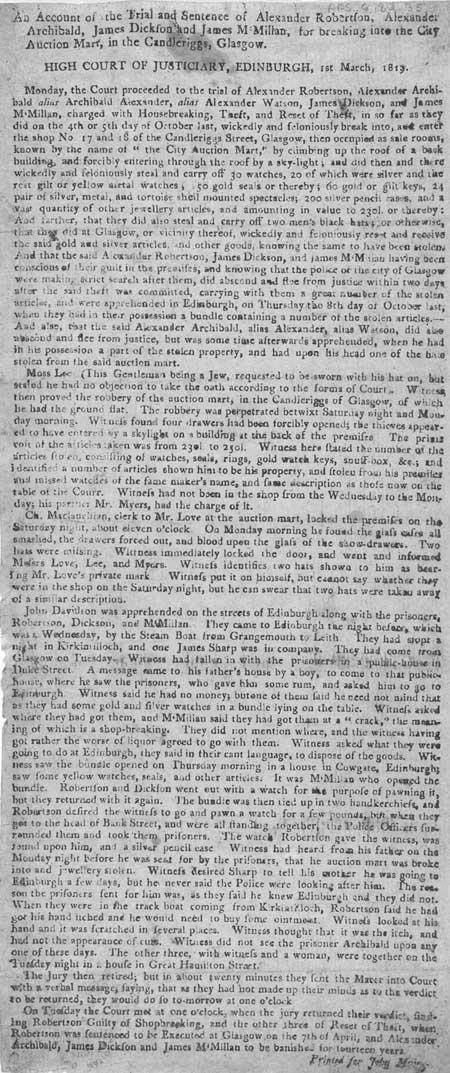 View larger image