Commentary
This broadside begins: 'THE LAST SPEECH, CONFESSION, AND DYING DECLARATION OF RICHARD BROXUP, Who was executed at the west End of the Tolbooth of Edinburgh, on Wednesday the 11th of February, 1801, for the Crimes of picking Locks and Theft.' It was first published by J. Morren of Edinburgh and re-published by Thomas Duncan, Saltmarket, Glasgow.
Richard Broxup was executed for crimes that by today's standards would seem fairly minor: he was charged with opening a chest or chest of drawers in three separate properties, and with stealing clothing from a fourth. The penalty of death for such an apparently petty offence was not unusual in eighteenth- and nineteenth-century Scotland. In fact, execution was the usual punishment for those caught stealing or housebreaking.
Reports recounting dark and salacious deeds were popular with the public, and, like today's sensationalist tabloids, sold in large numbers. Crimes could generate sequences of sheets covering descriptive accounts, court proceedings, last words, lamentations and executions as they occurred. As competition was fierce, immediacy was paramount, and these occasions provided an opportunity for printers and patterers to maximise sales.

Date published: 1801 shelfmark: APS.4.82.32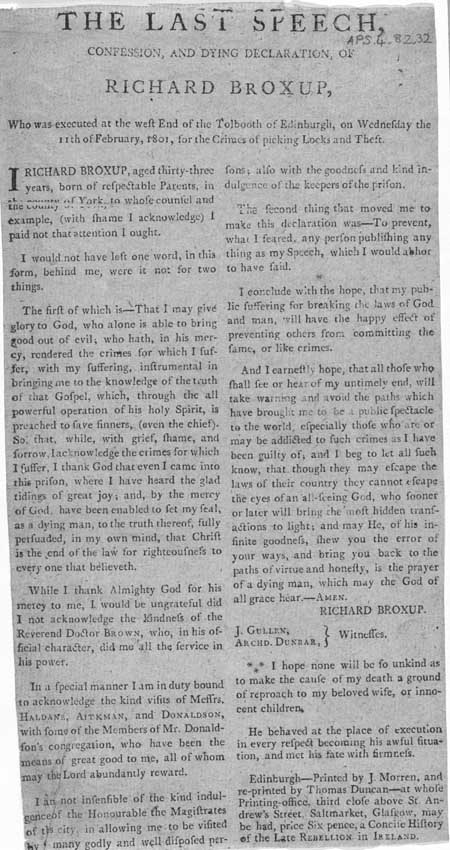 View larger image