Commentary
This political report begins: 'THE County of Roxburgh was already tired with the foolish, bombastic, and unmeaning effusions of sciolistic and shallow witted politicians; the walls had been covered with Placards containing recitals and re-recitals of circumstances which had no existence, save in the imaginations of their authors . . .' The author is named as 'A LOOKER ON' and the sheet is dated 5th September 1832. There are no further publication details given. 'Sciolistic', which appears in the first sentence, is a word referring to someone with unjustified pretensions to knowledge.
This report accuses a 'Letter fo a fellow Elector' of prematurely celebrating the success of Captain George Elliot (1784-1863) ahead of the 1832 General Election, the first election after the passing of the Reform Bill. The National Library of Scotland hold other broadsides supporting Elliot's campaign in the Roxburghshire constituency. Elliot was a Whig, and the son of Gilbert Elliot, 2nd Earl of Minto, who was Whig MP for Roxburghshire from 1812-14. He was captain of H.M.S. Victory from 1827-1832. His Tory opponent, one of the 'Two competitors in the field of Roxburgh' mentioned here, was Lord John Douglas Scott, (1809-1860). Elliot was victorious on this occasion but was defeated by Scott in 1835.
The Parliamentary Reform Bill of 1832 increased the number of Scottish MPs from 45 to 53, and extended the vote in the burghs to households with an annual value of £10. This enlarged the voting base in Britain from 6 per cent of the population to 12 per cent, and inevitably led to competition between politicians and parties to win the support of the new voters. Among the tools used by the opposing sides were broadsides which argued the merits of the respective candidates. These were probably the forerunners of modern election campaign literature.

Date published: 1832 shelfmark: APS.4.81.42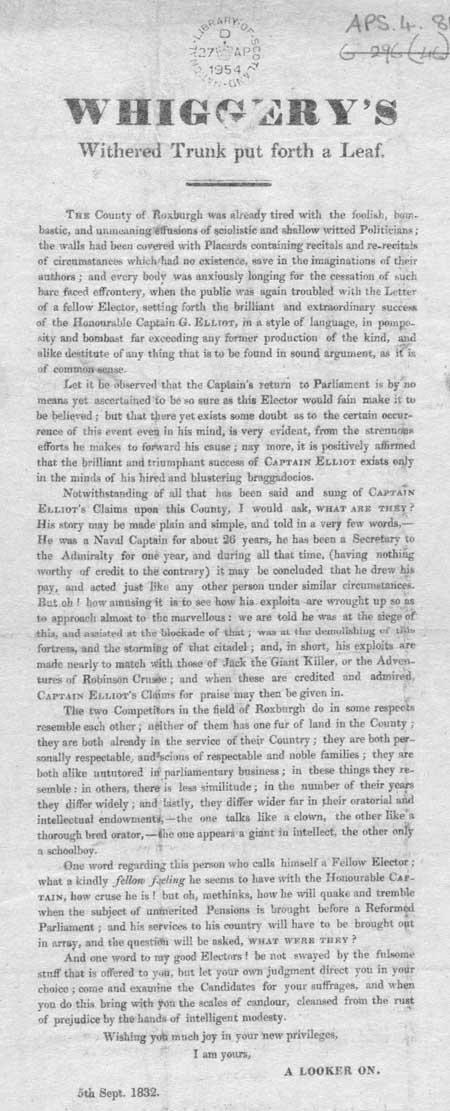 View larger image