Commentary
Verse 1: 'KEEN the frosty winds were blawin, / Deep the snaw had wreath'd the ploughs, / Watty, wearied a' day sawin, / Dannert down to Mungo Blue's.' The broadside also includes, at the foot of the sheet, 'OPINIONS OF THE PRESS'. There are no publication details supplied, but the dates of the newspapers quoted suggests that the sheet was published in late 1845 or 1846.
This broadside seems to have been intended, primarily, as an advertisement for a sculpture by a Mr Anderson of Perth. The sculpture was based on Alexander Wilson's (1766-1813) popular poem of 1792, 'Watty and Meg', which is reproduced in full on the page. The press reviews praise Anderson's sculpture highly, and describe it as a group of figures from the poem, carved from a single block of stone. It appears to have been exhibited in Dundee.
Broadsides are single sheets of paper, printed on one side, to be read unfolded. They carried public information such as proclamations as well as ballads and news of the day. Cheaply available, they were sold on the streets by pedlars and chapmen. Broadsides offer a valuable insight into many aspects of the society they were published in, and the National Library of Scotland holds over 250,000 of them.

Probable date published: 1845-1846 shelfmark: APS.4.80.11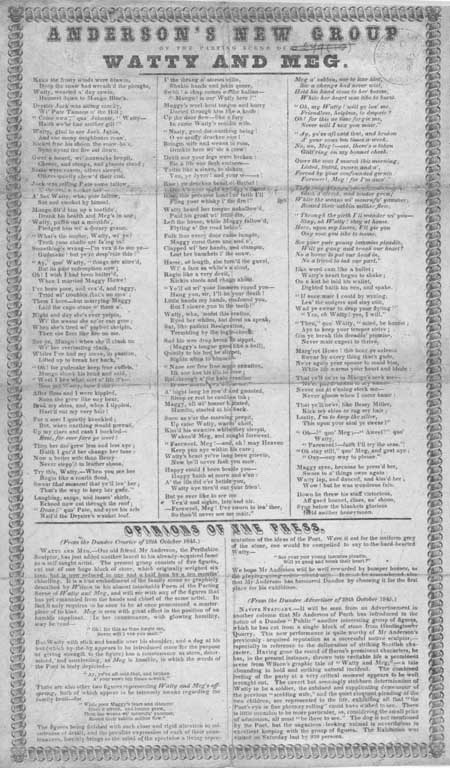 View larger image