Commentary
This court round-up begins: 'A particular account of the Proceedings of the Circuit Court of Justiciary, opened at Glasgow on Wednesday the 8th of April 1795. In particular the trial of John Gibson, for a rape on the body of Janet Wilson, and Allan M'Aulay for murder.' The name of the publisher is not included.
Starting off with the most sensational crimes of the day, this broadside provides its audience with a summary of the trials that have been taking place at the Circuit Court in Glasgow, during April, 1795. After naming the presiding judges, the writer proceeds to describe the crimes. The main case concerns the murder of a landlord by a mob of men and women who wanted him to open up his pub outside the licensing hours. After beating up the landlord (he later died of his wounds), the mob ransacked his house. Other cases included trials for murder and rape and an indictment for robbery.
Reports recounting dark and salacious deeds were popular with the public, and, like today's sensationalist tabloids, sold in large numbers. Crimes could generate sequences of sheets covering descriptive accounts, court proceedings, last words, lamentations and executions as they occurred. As competition was fierce, immediacy was paramount, and these occasions provided an opportunity for printers and patterers to maximise sales.

Date of publication: 1795 shelfmark: APS.3.84.19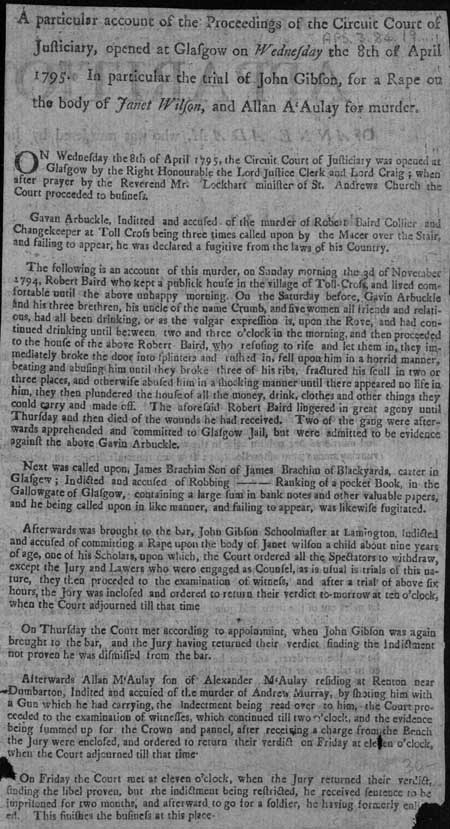 View larger image