Commentary
Following on from the title, this broadside story continues: 'Who died on the 6th of August 1820, at Cramond, at the age of 105, with an account of the Wonderful Changes that would take place in the year 1822, in England, Ireland, and especially in Scotland.' The sheet was published by William Carse of Glasgow.
This highly erudite broadside introduces the audience to Edinburgh's very own Nostradamus: John Leckie of Cramond. Before dying in 1820 at the ripe old age of 105, it seems that Leckie made a series of prophecies regarding what would befall Scotland, England and Ireland in the near future. As with Nostradamus, however, these visions are stated in a rather opaque style of language, meaning that Leckie's predictions can be interpreted in numerous different ways. For instance, he states that Scotland, once famed for its enlightened citizens, is about to enter a period of darkness, from which, after a short time, it will emerge into a new period of enlightenment. However, such visions would have pleased and entertained the audience.
Broadsides are single sheets of paper, printed on one side, to be read unfolded. They carried public information such as proclamations as well as ballads and news of the day. Cheaply available, they were sold on the streets by pedlars and chapmen. Broadsides offer a valuable insight into many aspects of the society they were published in, and the National Library of Scotland holds over 250,000 of them.

Date of publication: 1820 shelfmark: APS.3.83.17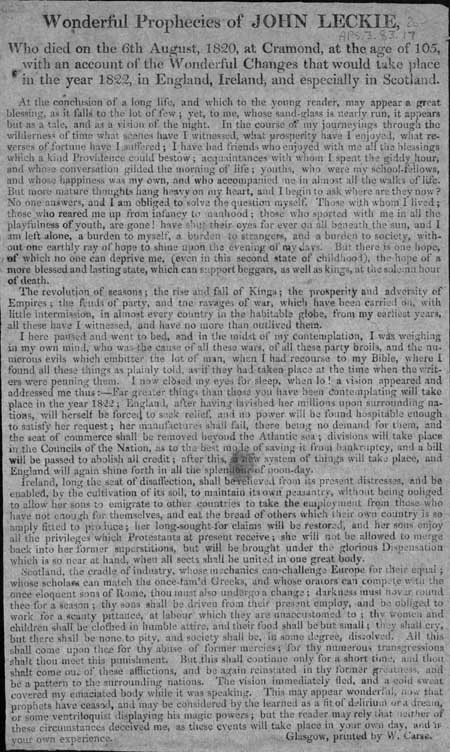 View larger image