Commentary
Following on from the title, the prologue continues: 'From the Bell of the High Kirk of Paisley, to its friend the Cross Steeple of Glasgow, giving her an account of her being struck with the Dumb Palsy, and the curious remedy which the Bell-doctors took to restore her to health and sound.' The letter is dated the 12th of October, 1821, and, rather bizarrely, is signed by the steeple bell of Paisley High Kirk. The sheet was published by John Muir of Glasgow.
This surreal story, allegedly written by a steeple bell in Paisley, is addressed to one of its friends, a steeple in Glasgow. Clearly, this light-hearted broadside is not intended to be taken seriously, and the author was merely trying to amuse his audience with a playful fancy. Written in a colloquial Scots dialect, the steeple bell is suffering from Bells Palsy (or 'dumb palsy' - a type of facial paralysis) and, in an effort to cure the bell of this affliction, the minister called a doctor to give the bell a medical check-up. In short, this whole story is structured around the punning possibilities of the term, Bell's Palsy.
Broadsides are single sheets of paper, printed on one side, to be read unfolded. They carried public information such as proclamations as well as ballads and news of the day. Cheaply available, they were sold on the streets by pedlars and chapmen. Broadsides offer a valuable insight into many aspects of the society they were published in, and the National Library of Scotland holds over 250,000 of them.

Date of publication: 1821 shelfmark: APS.3.82.24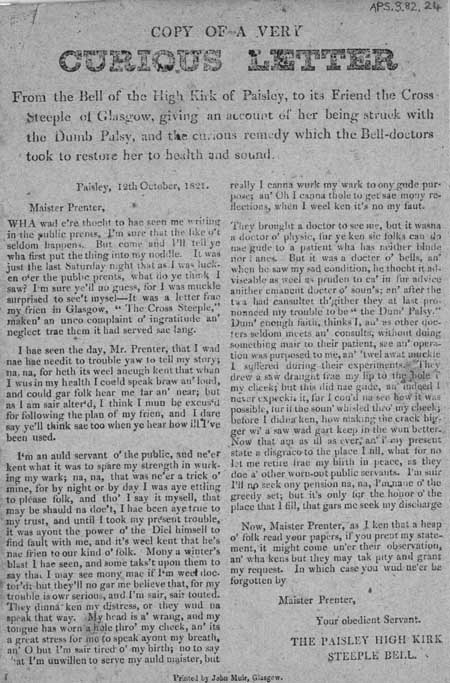 View larger image