Commentary
This ballad is prefaced by an explantion which reads: 'THE BRIDGE WAS BLOWN DOWN, WITH THE LAST TRAIN FROM THE SOUTH, ON SUNDAY EVENING, THE 28TH DAY OF DECEMBER 1879, WHEN IT WAS SUPPOSED THAT OVER SIXTY LOVES WERE LOST, AND NONE WERE LEFT TO TELL THE TALE. There are now Forty-six bodies recovered, two of which are women, and one a girl, and all identified. 15th May 1880.' The ballad begins: 'The Bridge, the Bridge, the wondrous Bridge / That spans the Firth of Tay . . .' It was written by C. Horne and published in Aberdeen.
The first Tay Bridge, designed by Thomas Bouch (1822-90), was completed in 1878. After the collapse of the bridge, as described in the preface to this ballad, a public enquiry found Bouch's design to blame for the disaster, maintaining that it was not adequate to withstand strong winds. The tragedy inspired various songs and poems, most famously William McGonagall's (c.1825-1902) 'The Tay Bridge Disaster'. McGonagall claimed that 'ninety lives have been taken away', while this broadside puts the figure at sixty. It is now believed that seventy-five lives were lost in the disaster.
Early ballads were dramatic or humorous narrative songs derived from folk culture that predated printing. Originally perpetuated by word of mouth, many ballads survive because they were recorded on broadsides. Musical notation was rarely printed, as tunes were usually established favourites. The term 'ballad' eventually applied more broadly to any kind of topical or popular verse.

Date published: 1880 shelfmark: APS.3.81.9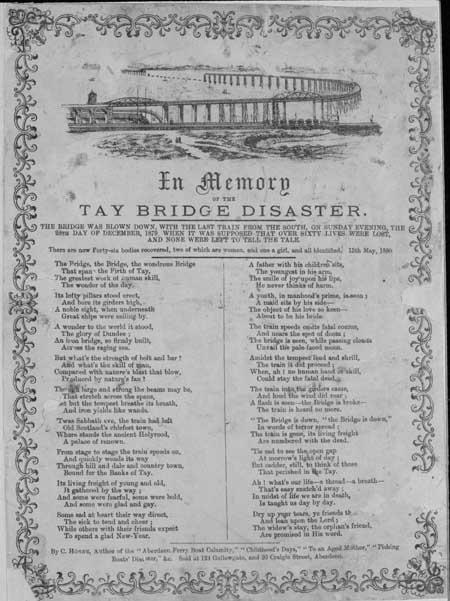 View larger image