Commentary
This public notice begins: 'IT appears that LORD JOHN SCOTT'S friends are giving it out that he is a REFORMER! with the view it is supposed of catching a few stray Votes. But this won?t do. It is not yet forgotten that Lord JOHN attended a Meeting of Freeholders, &c. at JEDBURGH. on 21st March, 1831, when he voted out and out against the REFORM BILLS . . .' It is dated 4th July 1832.
The Parliamentary Reform Bill of 1832 increased the voting base in Britain from 6 per cent of the population to 12 per cent. This inevitably led to competition between politicians and parties to win the support of the new voters, and among the tools used by the opposing sides were campaign leaflets like the one shown here. The candidate it recommends, Captain George Elliot, (1784-1863) clearly supported the Reform Bill, and was a Whig. He was captain of H.M.S. Victory from 1827-1832. He was the son of Gilbert Elliot, 2nd Earl of Minto, who was Whig MP for Roxburghshire from 1812-14. Lord John Douglas Scott, (1809-1860), was a prominent Tory and opponent of the Reform Bill. Efforts to present him to the new electorate as a 'reformer' are ridiculed here. Elliot defeated Scott in the first election after the passing of the Reform Bill in 1832, but the tables were turned in the election of 1835.
Broadsides are single sheets of paper, printed on one side, to be read unfolded. They carried public information such as proclamations as well as ballads and news of the day. Cheaply available, they were sold on the streets by pedlars and chapmen. Broadsides offer a valuable insight into many aspects of the society they were published in, and the National Library of Scotland holds over 250,000 of them.

Probable date published: 1832 shelfmark: APS.3.79.6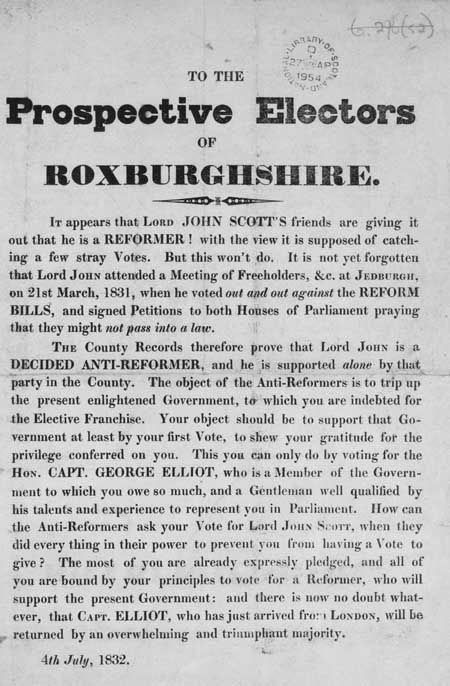 View larger image