Commentary
This account of court proceedings begins: 'Glasgow, April 23d, 1823. - This afternoon, the Circuit Court of Justiciary was opened here by the Right Hon, the Lords Gillies and Succoth. After an impressive prayer from the Rev. Dr. Gibb, the court adjourned till next morning.' It was published by William Carse of Glasgow.
Broadsides summarising court proceedings were fairly common, just as sheriff court cases for minor crimes might be summarised in local newspapers today. The obvious difference between then and now is the severity of the sentences that were handed down in 1823. Most cases here carry sentences of lengthy periods of transportation for theft or forgery and two unfortunate individuals are sentenced to death for breaking into shops. From the late seventeenth century crimes against property became subject to particularly heavy penalties under the penal reforms known as the 'Bloody Code'.
Broadsides are single sheets of paper, printed on one side, to be read unfolded. They carried public information such as proclamations as well as ballads and news of the day. Cheaply available, they were sold on the streets by pedlars and chapmen. Broadsides offer a valuable insight into many aspects of the society they were published in, and the National Library of Scotland holds over 250,000 of them.

Date of publication: 1823 shelfmark: L.C.Fol.73(051)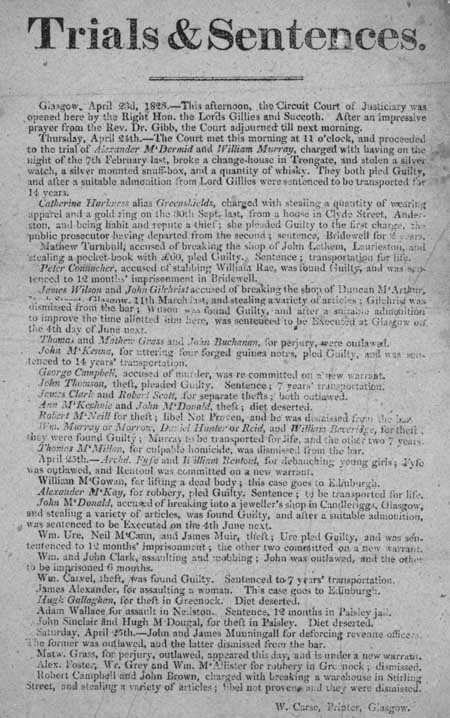 View larger image