Commentary
This broadside begins: 'A GRAND SMOKING CONCERT WILL BE HELD IN Janefield Cemetry, On Sunday=Monday Evening, Suctober Forty-Tooth. Dugald M'Google, B.A., M.U.D in the Chair.' It was published by L. Macartney at the Poet's Box, Dundee.
This is a mock-advertisement printed on a broadside for comic purposes. Wordplay is the key to the humour. A common phrase, such as 'turn', referring to a performance or an act, is made into 'stomach-turn' and takes on a whole new meaning. The fictional performers are given comic-sounding rhyming names such as 'Runco M'Bunko' and 'Dugald M'Google'. The date is given as the 'Forty-Tooth'. This broadside shows that British absurdist humour, normally associated with the late twentieth century and comic acts such as the Goons and Monty Python's Flying Circus, had actually existed for far longer.
Broadsides are single sheets of paper, printed on one side, to be read unfolded. They carried public information such as proclamations as well as ballads and news of the day. Cheaply available, they were sold on the streets by pedlars and chapmen. Broadsides offer a valuable insight into many aspects of the society they were published in, and the National Library of Scotland holds over 250,000 of them.

Probable period of publication: 1880-1900 shelfmark: RB.m.143(114)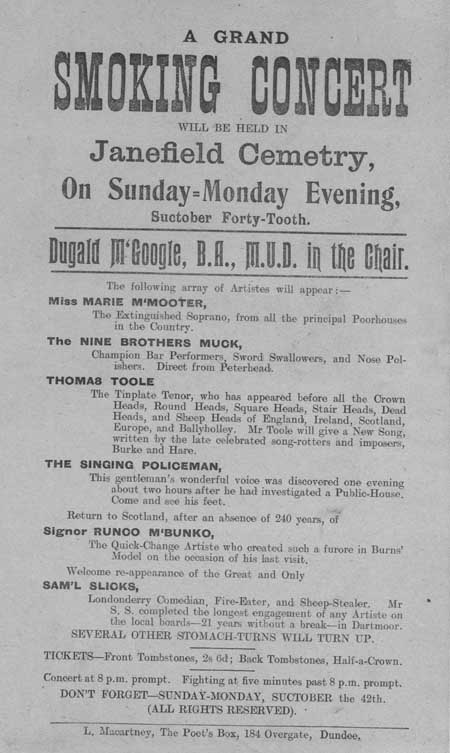 View larger image