Commentary
This ballad begins: 'Stilled are once more the shouts o' war, / And smiling peace returns. / There's sorrow noo in mony a hame, / There's mony a heart that mourns.' Unfortunately, no publication details are included on the broadside. However, a note at the foot of the sheet identifies the writer as 'Pte. J. Sibbald, 1st Black Watch'.
Apparently written by a private in the Black Watch, the themes explored in this ballad are almost identical to the points that Rudyard Kipling (1865-1936) raises in his famous poem, 'Tommy Atkins'. This private believes that the public should show far more respect for soldiers, considering that they so bravely sacrifice their lives in service of their country. The reality, however, claims the soldier, is that soldiers are treated like outcasts who, even if they survive the fighting, are most likely to die impoverished in the workhouse. The recurring theme of this ballad is a request to the public for respect and understanding towards British soldiers, and recognition that a 'rough exterior' can often hide 'the beauty of a soul'.
Early ballads were dramatic or humorous narrative songs derived from folk culture that predated printing. Originally perpetuated by word of mouth, many ballads survive because they were recorded on broadsides. Musical notation was rarely printed, as tunes were usually established favourites. The term 'ballad' eventually applied more broadly to any kind of topical or popular verse.

Probable period of publication: 1870-1890 shelfmark: RB.m.143(196)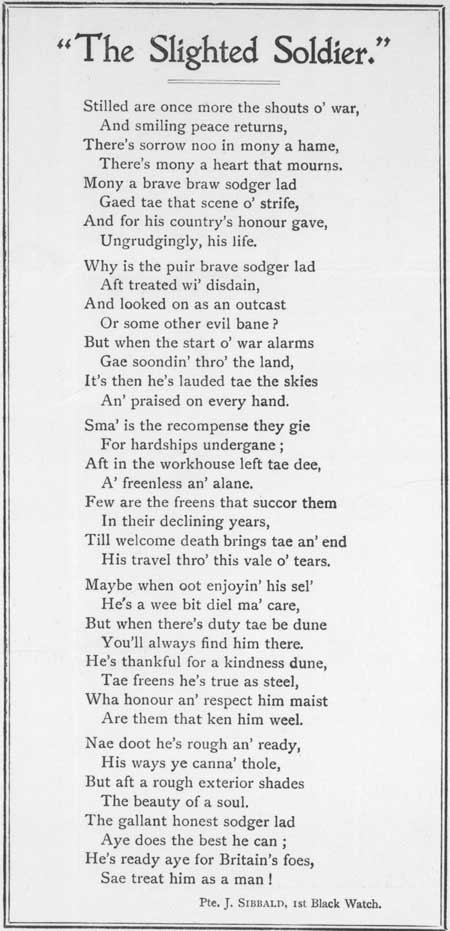 View larger image