Commentary
Verse 1 begins: 'O say bonnie lass will ye lie in a barrack, / And marry a sodger, and carry his wallet?' There is an address to the reader at the beginning of the song, which comments on the plight and prettiness of soldiers' wives.
Scots soldiers enjoyed, and indeed in many ways still do enjoy, a formidable military reputation. This idea is supported and furthered by the hyperbole and romanticism of this text. There were many narratives, and even more ballads, which warned against the perilous and insecure life of soldiers' wives, whilst at the same time glamorising the lifestyle and position. This is a problem which is still a large feature in today's debates about the responsibility of media portrayals in social problems.
Broadsides, cheap and accessible, were often used as moral forums with 'lessons of life' included in the narrative. Broadside authors tended to see themselves as moral guardians and teachers in society. As such, publishers often disseminated 'educational' texts outlining the social and personal consequences of undisciplined or immoral behaviour.

Probable period of publication: 1880-1900 shelfmark: RB.m.143(133)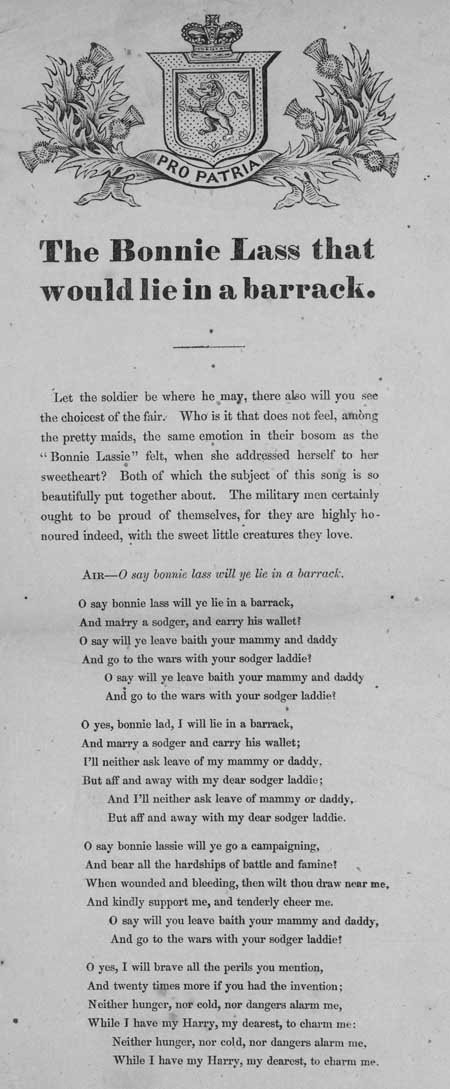 View larger image