Commentary
The first ballad begins: 'Far frae my ain hame I wander, / But still my thoughts return'. The second ballad begins: 'They're far ower the sea, the freen's we lo'e sae weel, / They're far, far across the stormy main'. The third ballad begins: 'Says I, bonnie lassie, will ye gang wi' me, / An' leave your friends in their ain country?' The fourth ballad begins: 'Our bravest on the turf lie dead / On dark Flodden Field'.
The first two songs deal with a subject that would have been familiar to a large number of Scots, that of emigration to distant shores. 'My Ain Folk' is from the perspective of those who have left their beloved homeland, whilst 'They're Far Far Awa'' is from the viewpoint of the people who were left behind. With the Scottish diaspora of the eighteenth and nineteenth centuries, such themes were extremely popular and struck a chord with many people.
Whilst the narrator of the 'Gallowa' Hills' is not seeking to travel overseas, he is trying to entice his sweetheart to leave her friends and family behind and follow him into the hills. Although slightly different to the first two ballads, it deals with similar themes: the desire to seek out a new and better life coupled with the pain felt by leaving one's home. The final ballad, 'Dark Flodden Field', deals with the aftermath of the Battle of Flodden (1513), where the English defeated the Scots under King James IV, who along with over 10,000 Scots died on the battlefield. Rousing patriotic sentiments, the song ends on a positive note: 'Yet Scotland shall outlive thy stain, / Dark Flodden Field'.

Probable period of publication: 1880-1900 shelfmark: RB.m.143(119)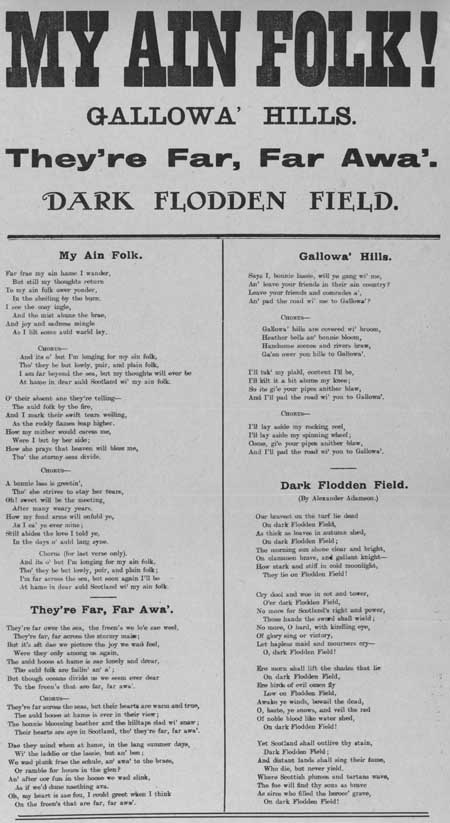 View larger image