Commentary
This political notice begins: 'The public are informed that a telegram was received this morning, at three o'clock in the afternoon, by a friend of the / YOUNG MAN / who has been missing from the neighbourhood of the High Street'. The sheet was published by L. MacArtney of the Poet's Box, 184 Overgate, Dundee.
This sheet begins as a public notice but quickly turns into a list of veiled political comments, mainly about Communists, the French and the Suez Canal. The Poet's Box in Dundee was a prolific ballad publisher but this sheet illustrates the more serious side of their business. It also suggests the level of political awareness and interest prevalent in Scotland's towns. This style of text, with its implicit political propaganda, would not only have made for compelling entertainment, but would also perhaps have stimulated political thought, reasoning and debate.
The Dundee Poets? Box was in operation from about 1880 to 1945, though it is possible that some material was printed as early as the 1850s. Most of the time it had premises at various addresses in Overgate. In 1885 the proprietor J.G. Scott (at 182 Overgate) had published a catalogue of 2,000 titles consisting of included humorous recitations, dialogues, temperance songs, medleys, parodies, love songs, Jacobite songs. Another proprietor in the 1880s was William Shepherd, but little is known about him. Poets? Box was particularly busy on market days and feeing days when country folk were in town in large numbers. Macartney specialised in local songs and bothy ballads. Many Irish songs were published by the Poets? Box ? many Irishmen worked seasonally harvesting potatoes and also in the jute mills. In 1906 John Lowden Macartney took over as proprietor of the Poet?s Box, initially working from 181 Overgate and later from no.203 and 207.
It is not clear what the connection between the different Poet?s Boxes were. They almost certainly sold each other?s sheets. It is known that John Sanderson in Edinburgh often wrote to the Leitches in Glasgow for songs and that later his brother Charles obtained copies of songs from the Dundee Poet?s Box. There was also a Poet?s Box in Belfast from 1846 to 1856 at the address of the printer James Moore, and one at Paisley in the early 1850s, owned by William Anderson.
Broadsides are single sheets of paper, printed on one side, to be read unfolded. They carried public information such as proclamations as well as ballads and news of the day. Cheaply available, they were sold on the streets by pedlars and chapmen. Broadsides offer a valuable insight into many aspects of the society they were published in, and the National Library of Scotland holds over 250,000 of them.

Probable date of publication: 1906- shelfmark: RB.m.143(116)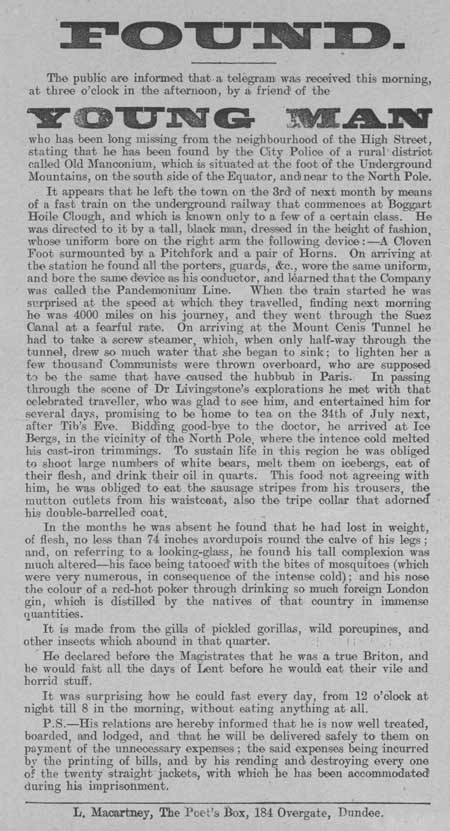 View larger image