Commentary
Verse 1 begins: 'The grand June sun with regal sway / Has through the solstice gone'. The poem, by Agnes H. Bowie is inscribed to Wallace Bruce, the American Consul at Edinburgh and Theodore Napier of Magdala, President of the Scottish National Association of Victoria. It was published on the 24th June 1893, by C. Harvey of Stirling.
The Battle of Bannockburn was fought just outside of Stirling on the 23rd and 24th of June 1314, between Robert Bruce and Edward II. This was to end a long period of English occupation in Scotland's power centres. The battle itself is still at the centre of a great controversy. Bruce had 7,000 men who, although adept at guerrilla warfare, were no match for Edward's 20,000 battle-trained troops. Despite this, the Scots won an outright and resounding victory and Edward was almost taken prisoner.
This style of text, with its implicit political propaganda, would not only have made for compelling entertainment, but would also perhaps have stimulated political thought, reasoning and debate.

Date of publication: 1893 shelfmark: RB.m.143(111)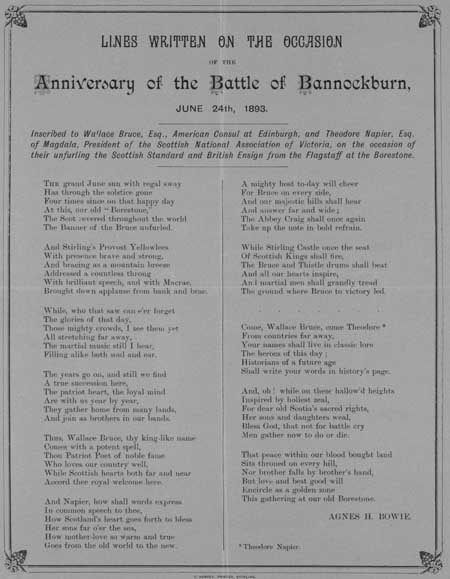 View larger image