Commentary
This moralising poem begins: 'I WONDER how people in drunkenness can delight, / For often drunkenness ends in spite. / A comfortable cup of tea will neither harm you nor me. / Those who only take a cup of tea'. This poem was written by Janet Reid of Carnock. It was published by MacDonald of Carrubbers' Close, Edinburgh.
The MacDonald family worked in around Carrubbers' Close, Edinburgh from the 1820s through to the 1870s, with both women and children being involved in the business in their own right. This broadside was published during a period of fervent temperance activity, as the plight of the working class was tackled by restricting access to beer and gin! Janet Reid (1777-1854) was a prolific author of ballads who travelled the country during the 1830s and 1840s selling broadsides. She was based in Carnock, near Dunfermline and later in Bridge of Allan.
Early ballads were dramatic or humorous narrative songs derived from folk culture that predated printing. Originally perpetuated by word of mouth, many ballads survive because they were recorded on broadsides. Musical notation was rarely printed, as tunes were usually established favourites. The term 'ballad' eventually applied more broadly to any kind of topical or popular verse.

Probable period of publication: 1840-1842 shelfmark: RB.m.143(107)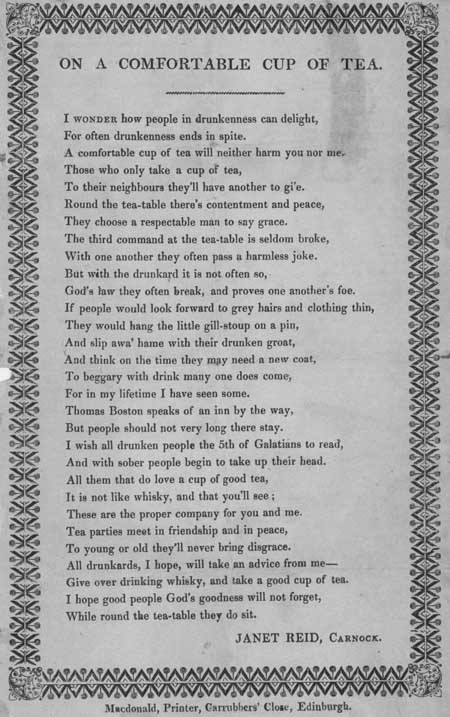 View larger image