Commentary
Following on from the title, this broadside story continues: 'Showing how one Richard Middleton was taken before the Mayor of the City he was in, for using Cards in Church during Divine Service: being a Droll, Merry, Humorous Account of an Odd affair that happened to a Private Soldier in the 60th Regiment of Foot.' There are no publication details included on this sheet.
This clever and light-hearted broadside story is really a religious sermon disguised as a humorous tall tale. Briefly, a private soldier is taken before the city major for allegedly playing cards, under the camouflage of pretending to read a Bible while sitting in church. Warned that he faces a harsh punishment unless he can explain himself, the quick-thinking soldier shows the major how he reads the bible by identifying each card with a biblical story. This fictional story concludes with the major giving the soldier some money and beer, after telling him he is the cleverest man he has ever met.
Early ballads were dramatic or humorous narrative songs derived from folk culture that predated printing. Originally perpetuated by word of mouth, many ballads survive because they were recorded on broadsides. Musical notation was rarely printed, as tunes were usually established favourites. The term 'ballad' eventually applied more broadly to any kind of topical or popular verse.

Probable period of publication: 1906-1907 shelfmark: RB.m.143(068)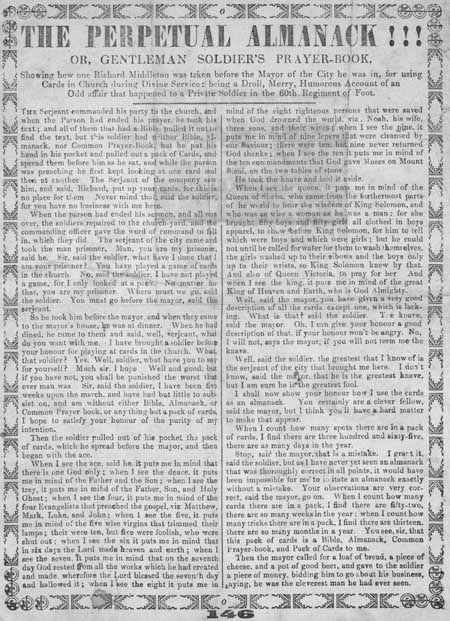 View larger image