Commentary
This broadside word puzzle begins: 'In these few lines I've laid a plot, / In half an hour you'll read them not - / To read them right, as they should be, / Come - lay a wager - try and see.' Although no publication date is included, the sheet was published by Menzies of Edinburgh.
This highly unusual broadside explores the theme of romantic love, but in the complicated form of a word puzzle. Unfortunately, it is not clear how the middle section of this word puzzle, or conundrum, should be read. It would appear, however, that the reader can pick and mix the set expressions included in the three columns, thereby producing new and original lines of romantic poetry for the object of his or her desire. The National Library of Scotland's collection contains other broadsides that are written in the form of word puzzles.
Early ballads were dramatic or humorous narrative songs derived from folk culture that predated printing. Originally perpetuated by word of mouth, many ballads survive because they were recorded on broadsides. Musical notation was rarely printed, as tunes were usually established favourites. The term 'ballad' eventually applied more broadly to any kind of topical or popular verse.

Probable period of publication: 1812-1836 shelfmark: RB.m.143(062)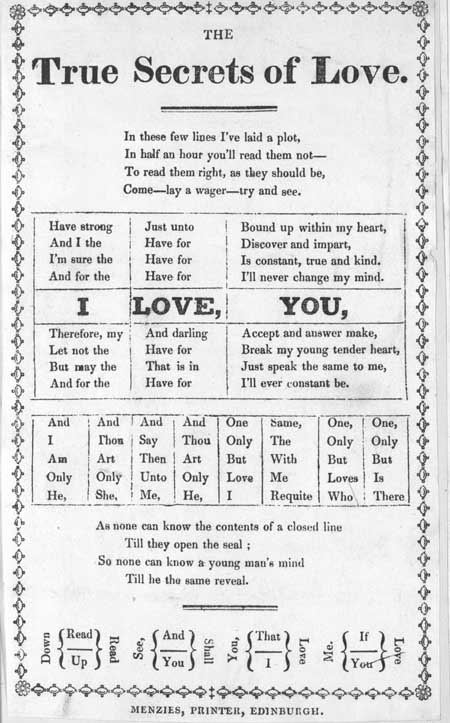 View larger image