Commentary
The 'Stump Speech' begins: 'FRIENDS AND FELLOW-CITIZENS, - Unaccustomed as I um to public speaking, allow me to say that when a man stands before a number of his fellow men to speak, he assumes a liberty'. This is clearly a parody of the traditional stump speech. Stump speech is another name for a campaign speech, usually political, which covers a large number of non-specific points. It is so called because those delivering the speech would traditionally use a tree stump as a raised platform.
The 'Cure for a Cripple' begins: 'IT happened on a Sunday evening, about thirty years ago, that two sheep-stealers had meditated an attempt on the flock of a wealthy farmer in the parish of A___ in the west neuk of Fife.' A note under both titles reveals that this broadside was available from the Poet's Box. Unfortunately, no further publication details are provided.
During the nineteenth century, the Poet's Box appeared in a number of Scotland's towns and cities, including Edinburgh, Glasgow, Dundee and Paisley and also Belfast. Although they carried the same name, there is some doubt over whether they were connected in any way. Primarily publishers and distributors, they not only printed the standard range of broadsides, but also accepted commissions and offered a cheap publishing service to impecunious writers. The National Library of Scotland's collection includes a large number of broadsides published by the Poet's Box.

Probable period of publication: 1880-1900 shelfmark: RB.m.143(054)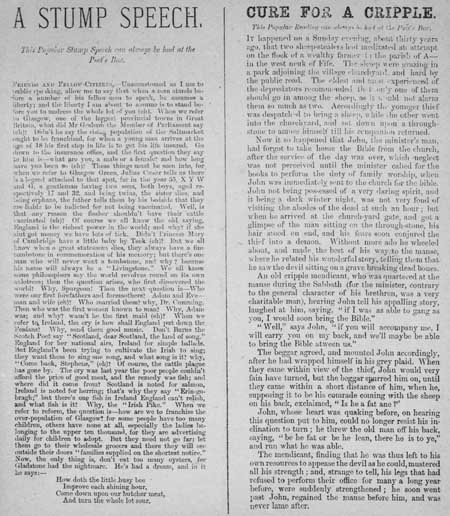 View larger image