Commentary
The first verse of 'Pretty Little Nell' begins: 'When strolling on one summer's day down / a country lane, / just for a change of air, my boys, from town that / day I came'. The chorus begins: 'Pretty Little Nell, the farmer's daughter / I met her at the well drawing water'. Included at the top of the sheet is a woodcut illustration of a young woman with a dog.
The first verse of 'Down Among the Coal' begins: 'JEMIMA lived in service once, at a house in St. Enoch Square, / She ne'er got out, so I used to go and cour her there'. The chorus begins: 'Down among the coals, down among the coals, / All alone and in the dark, I say boys, it is a lark'.
Whilst no publication details have been included on this sheet, the number '670' does suggest that it was published as part of a sequence. A number of broadside producers issued series in the hope that people would begin to collect them. This particular sheet would have probably sold well because of the inclusion of two ballads and a small illustration. Often sold for the same price as those carrying only one ballad, people considered them good value for money - two for the price of one!

Probable period of publication: 1880-1900 shelfmark: RB.m.143(042)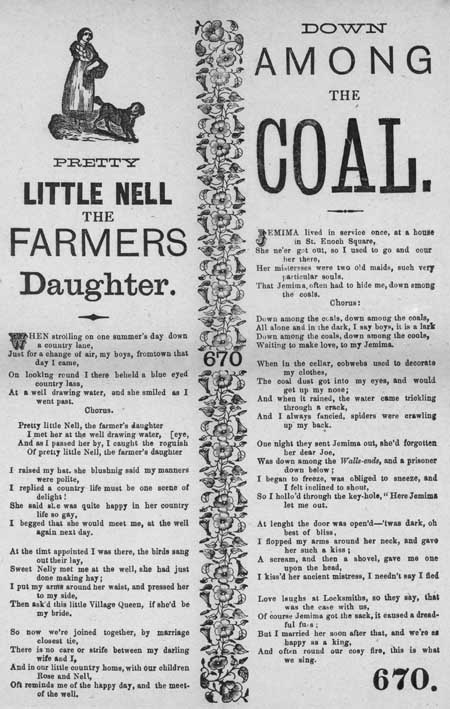 View larger image