Commentary
The first ballad 'The Banks of Sweet Dundee' begins: 'It's of a farmer's daughter, / So beautiful I'm told, / Her parents died and left her, / Five hundred pounds in gold'. This is one of the most widespread and famous folksongs and is known throughout Britain and North America.
The second ballad begins: 'E'er the tea party it had begun, / I eat an onion---only one, / Folks held their noses seemed ill at ease, / Stirred to and fro, made remarks like these'. A decorative design separates the two sides of the sheet. Unfortunately, no publication details have been given.
'Banks of Sweet Dundee' was a very popular song in the mid to late nineteenth century, and also goes by the title 'Undaunted Mary'. Different versions of the song were published in chapbooks and broadsides. The second song is a comical piece about the social embarrassment caused by having breath that smells of onions.

Probable period of publication: 1880-1900 shelfmark: RB.m.143(034)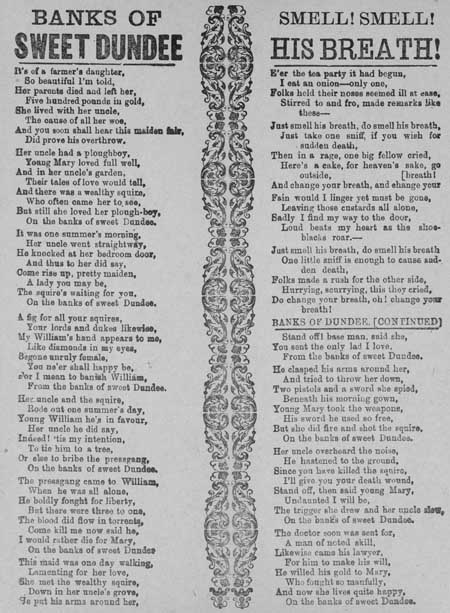 View larger image